Recent figures confirm that the UK continues to make significant progress towards eliminating HIV transmission. Whilst the total number of new HIV infections has decreased, diagnoses have fallen by 71 per cent amongst gay and bisexual men. This significant decline has been attributed to several successful preventative measures including widespread testing and increased use of PrEP.
According to Public Health England (PHE), HIV transmission is declining – particularly among gay and bisexual men. New infections diagnosed within this high-risk group have fallen from 2,800 in 2012 to 800 in 2018 – a decline of 71 per cent.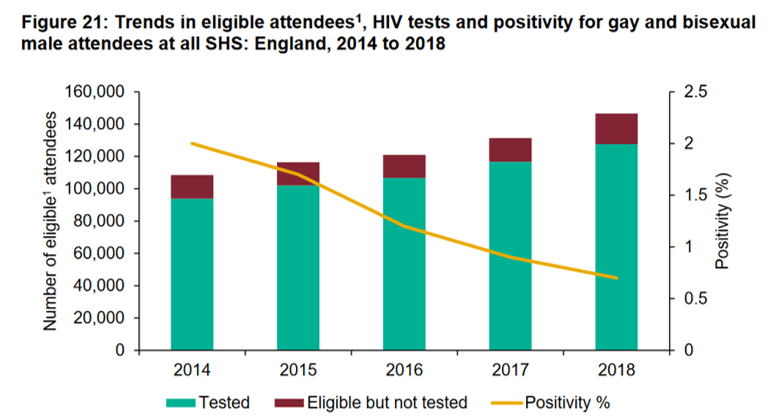 What do the figures say?
An estimated 103,800 people in the UK are living with HIV, and of those:
93 per cent have been diagnosed and are aware of their HIV status,
97 per cent of those diagnosed are receiving treatment,
97 per cent of those on treatment have an undetectable viral load – meaning that they cannot pass HIV on to anyone else.
But what do the figures really mean?
7,266 people in the UK do not know their HIV status,
2,897 of those diagnosed are not receiving any treatment,
2,809 of those are not receiving effective treatment.
Why has HIV transmission fallen?
The UK surpassed UNAIDS 90-90-90 targets in 2018, with continued progress towards ending the HIV epidemic ever since.
Several preventative measures have been successful in reducing the number of new cases of HIV in the UK:
Increased HIV testing
Testing for HIV has increased significantly over the past decade. In 2018, the number of gay and bisexual men who were tested for HIV increased by 9 per cent upon the previous year.
Dr Noel Gill, head of sexually transmitted infections and HIV at PHE, said "Testing is a key part of the UK's success. Certain groups of people are at higher HIV risk and are advised to have regular tests, including men and women who have had unprotected sex with new or casual partners from countries where HIV is common, who should test every year, and men who have sex with men".
A rise in the use of PrEP
Taken before having sex, post-exposure prophylaxis (PrEP) is effective in helping to stop HIV transmission between someone who has the virus and their negative partner. Although available to high-risk individuals in Scotland and Wales, PrEP is currently on trial in England and is yet to become freely available.
Widespread access to effective treatment
For those diagnosed with HIV, taking medication early on is crucial to protecting long-term health and managing the virus. When taken correctly, anti-retroviral therapy (ART) is effective in lowering the viral load in the body so that the virus cannot be passed on.
However, 43 per cent of all new HIV diagnoses are detected at a late stage – increasing the risk of death in the year following diagnosis by more than a tenfold, in comparison to those who are tested and treated early. Late-stage infections are common amongst heterosexual men and those aged over 50.
Get tested for HIV with Better2Know
It is estimated that 7 per cent of those living with HIV in the UK do not know that they have the virus. Could you have been at risk?
If you are worried about your HIV status, you should get tested. It's quick, simple and could save both your life and others'. Let's not stop here. Together, we can end HIV transmission.
You can learn more about the different ways to test for HIV here.
Sources
[1] PHE: HIV in the United Kingdom – 2019 report
[2] BBC: HIV infections among gay and bi men fall by 71% in UK
[2] The Guardian: HIV diagnoses among gay and bisexual men in England fall by 71 per cent
---