Every day two women lose their lives to cervical cancer and nine women are diagnosed with the condition. Since Dr George Papanicolaou introduced pap smear testing in the 1940s, deaths from cervical cancer have reduced by more than 50%. The NHS cervical screening programme continues to make a significant impact on the amount of deaths caused by cervical cancer – saving approximately 5000 lives a year. However, coverage is at an all-time low. Over 1.2 million people are not taking up their invite each year. Experts are saying that difficulties getting GP appointments are also fuelling the decline.
Cervical screening enables the early detection and treatment of abnormal cell changes in the cervix. Cervical Cancer Prevention Week reminds us of the importance of having your smear test. Campaigns endeavour to raise awareness about cervical cancer prevention and to help you know how to reduce your risk of cervical cancer. These include:
Attending cervical screening
Knowing symptoms
HPV vaccination
Knowing where to find support and more information
Robert Music, Chief Executive, Jo's Cervical Cancer Trust says:
"Cervical screening uptake in the UK is falling and currently at a 21-year low in England alone. We can't afford for this to continue as with 1 in 4 women not attending this potentially life-saving test, we will simply see more diagnoses and deaths that could have been prevented.
According to PHE, many women avoid their smear test because of:
Embarrassment
Concern for their result
Worries about the procedure and whether it is painful
Difficulty getting an appointment
Believing they are not at risk
An unawareness that cervical screening is available
Mr Music continues:
"There are a lot of reasons why attendance is declining, with psychological, physical and cultural barriers impacting women, and also more women struggling to get appointment. There are also misconceptions around what cervical screening is for. That is why during Cervical Cancer Prevention Week, we will be running our annual #SmearForSmear campaign. This aims to raise awareness around the importance of cervical screening and encourage and remind women to take up their invitation and let them know where they can find tips and support."
In March 2019, Public Health England are also launching their first ever national multimedia cervical cancer screening campaign. The main focus is to remove the fear associated with accepting a smear test invitation and to encourage the acceptance of cervical screening across England.
Should under 25s be offered smear tests?
Statistics from Cancer Research UK show that between 1993 and 2015, rates of cervical cancer incidence in women aged 20-24 have risen by 93%. Cervical screening for under 25s in the UK is an existing debate, with Theresa May urging the reduction of the screening age just last year. The government had come under pressure to lower the age after the death of the 27-year-old reality TV star Jade Goody in 2009 but has remained firm on keeping the minimum screening age at 25 ever since.
The topic has yet again gained media attention following the death of cervical cancer screening campaigner, Natasha Sale. Ms Sale began a petition in August for the government to reduce the cervical screening age from 25 to 18 – achieving over 78,000 signatures before her death. Her petition continues with the help of Natasha's Army – a campaign set up by her friends to carry on her fight – which has surpassed the 100,000 signature target, qualifying the issue to be considered for debate in Parliament.
There are many reasons why cervical screening starts at the age of 25. However, recent changes in the cervical screening process – with HPV testing becoming the first test before cytology – creates a possibility for the minimum testing age to be reduced.
Mike Asher, CEO and Chairman of Better2Know, says:
"Routine screening for the HPV virus is being rolled out across the UK during 2019. This is because extensive research has found that the presence of a high-risk strain of the HPV virus is a highly accurate indicator that a woman may be at risk of developing cervical cancer.
A major reason why traditional cervical screening, using cells taken from the cervix, was offered only to women over the age of 25 was because of the high rate of false positives due to normal changes in these cells as the woman matured.
The move to HPV screening means that now, only the principal cause of cervical cancers will be tested for (High Risk HPV) without any direct examination of the cells, thus almost eliminating the chances of false positive results. This is great news for all women and regular HPV testing should be embraced as a better alternative to the traditional PAP smear test."
What will happen at my smear test appointment?
You can have a smear test with your GP or at private sexual health clinics. Anthea Morris, Finance Director at Better2Know, discusses her own experience of smear testing:
"I have always had my regular smear test even if it is slightly uncomfortable. It just makes sense. With the proposed change to HPV testing I know that I will be getting a better diagnostic test and I am happy that HPV testing should help strengthen the argument to lower the minimum age for routine cervical health testing."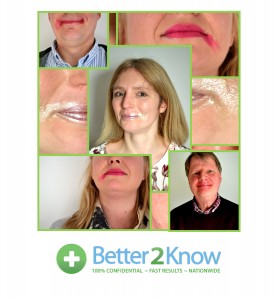 Sources
[1] BBC: Cervical cancer screening campaigner Natasha Sale dies aged 31
[2] BBC: Cervical cancer Devon mum's petition hits target
[3] BBC: Smear test age limit to remain 25
[3] BBC: Theresa May urged to extend smear tests to under 25s
[4] Cancer Research UK: Cervical cancer incidence statistics
[5] Healthy Women: 9 Warning Signs of Cervical Cancer You Shouldn't Ignore
[6] Institute of Biomedical Science: The challenges of NHS Cervical Cancer Screening
[7] Jo's Cervical Cancer Trust: Cervical Cancer Prevention Week 2019
[8] Jo's Cervical Cancer Trust: #SmearForSmear 2019
[9] Jo's Cervical Cancer Trust: Cervical screening aged 24 or under
[10] Public Health England: PHE to launch national cervical screening campaign in March 2019
[11] The Telegraph: Cervical cancer screening rate falls to lowest for at least 21 years
[12] The Lancet: Prediction of cervical cancer incidence in England, UK, up to 2040, under four scenarios: a modelling study
---