Public Health England (PHE) have published a report on the world's first strain of Gonorrhoea that has proved 'resistant to the recommended dual first-line therapy'. The case concerns a heterosexual man who had a sexual encounter whilst travelling in South East Asia. He attended a sexual health appointment in the UK earlier this year, where he was prescribed a combination of antibiotics. His test-of-cure revealed that this had failed to fully clear the infection, and the STI remained in his throat.
Speaking to the BBC, Dr Gwenda Hughes, head of STIs at PHE, said: "This is the first time a case has displayed such high-level resistance to both of these drugs and to most other commonly used antibiotics."
Experts in infectious diseases have previously warned of the bacterium's growing resistance to current forms of antibiotic treatment. Just last year Better2Know discussed three similar cases that had occurred in France, Japan and Spain, where the Gonorrhoea infection was also deemed untreatable. The World Health Organization (WHO) had said that it was 'only a matter of time' before last-resort Gonorrhoea treatments became ineffective.
The PHE's report went on to say that sexual health care providers must ensure they enable "prompt diagnosis, culture for susceptibility testing, effective treatment, test of cure, partner notification and a full sexually transmitted infection screen."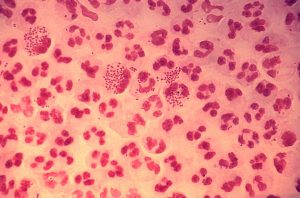 Better2Know's Gonorrhoea testing services
Gonorrhoea is a sexually transmitted infection that often shows no symptoms in the infected individual; this makes early detection and treatment key to protecting your personal health, as well as preventing transmission to any current or future partners. Better2Know is the UK's leading provider of private STI testing services. We offer a variety of testing options for Gonorrhoea, which are designed to suit your personal needs.
At your confidential appointment, you will be seen by a qualified medical practitioner who will go through your screen or test before taking the necessary samples. Many of our screens require a urine sample for Gonorrhoea testing, but you can also provide vaginal, urethral, rectal or throat swabs for analysis if your symptoms are localised in a certain area.
Results will be available within two to three working days and our expert Patient Services staff will contact you once all your results are ready to report. You can also monitor the status of your results online via the secure patient login area on the Better2Know website. If you test positive for Gonorrhoea, your sexual health advisor can arrange a private consultation with one of our skilled doctors, who will discuss your diagnosis in more detail. They will advise on further treatment options and prescribe the necessary medications. After finishing your course of treatment, we always advise taking a test-of-cure to ensure the infection is no longer present.
Better2Know offers Instant Gonorrhoea testing at selected private clinics across the country. This service enables you to receive your results, and a prescription for the required medication, on the same day as your test. Private doctor's consultations can be arranged either before your test or following your results. We can also combine other Instant tests for Chlamydia, HIV, Syphilis, Hepatitis B and Hepatitis C infections. Your Instant Gonorrhoea test only requires a 14-day period of incubation, so you are eligible for testing just two weeks after having sex. Your private clinician will take your swab sample and perform the pathology at the clinic whilst you wait. Results will be available within 30 minutes, and immediate prescriptions will be provided should you test positive for Gonorrhoea. You will be given a signed and completed copy of the Better2Know Rapid Test Results Report that outlines your results before you leave.
How to book
To book your Gonorrhoea test with Better2Know in the UK today, you can use our online booking system by selecting the orange button above. If you would like additional help choosing the most suitable screen or test for you, please contact our highly trained sexual health advisors on the number displayed at the top of the page.
---