New data published by the Public Health Agency reported that cases of Gonorrhoea in Northern Ireland have reached a record high. Diagnoses increased 30% in 2018, with the majority found in men. This significant increase poses risks surrounding antibiotic resistance to the infection.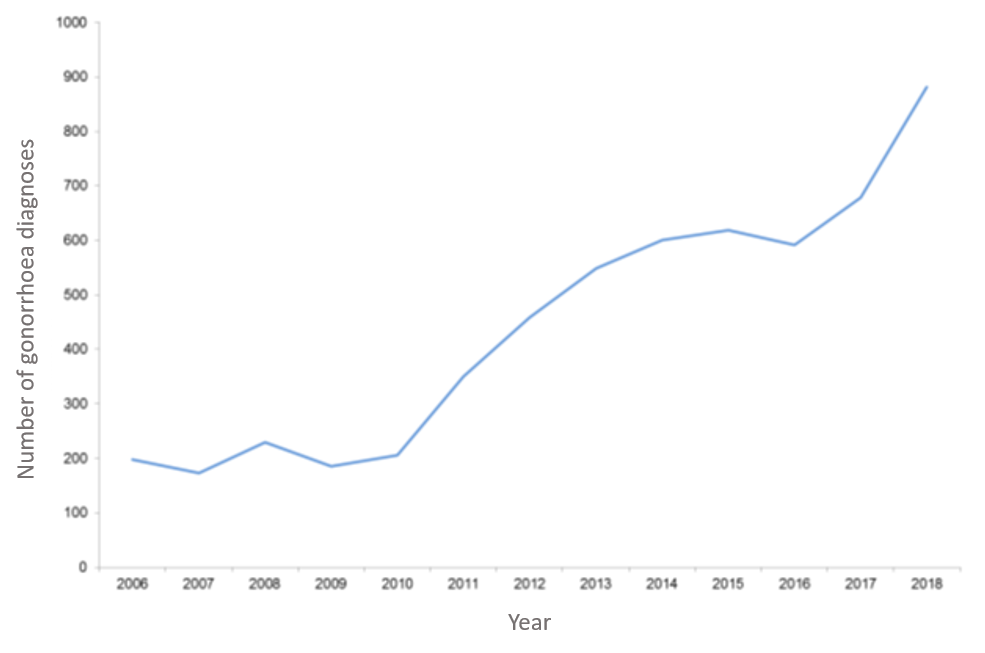 According to PHA, diagnoses of Gonorrhoea in Northern Ireland totalled 882 in 2018. A staggering 80% of these cases were found in men. A high proportion of those were men who have sex with men (MSM), indicating high risk within this group. Most new diagnoses were found in both men and women aged 20-24. However, many cases are left undetected as people do not know they have an infection. This means that the total population carrying the infection is likely to be significantly higher than reported figures.
This follows a sharp rise in cases of Gonorrhoea in England. In 2018, a total of 56,259 diagnoses were recorded. An increase of 26% on the previous year constitutes the highest rate of Gonorrhoea in England for 40 years. As incidents rise, there is a growing and very worrying risk that strains may become drug resistant. In early 2019, the first case of 'super-gonorrhoea' was acquired in the UK, for which standard antibiotics used to cure the infection were unsuccessful.
If left untreated, the infection can lead to health complications for both sexes. In women, it can cause Pelvic Inflammatory Disease (PID) and increased risk of infertility. In men, it can result in inflammation of the testicles and prostate. Early detection is important to prevent health implications and transmission of the infection to future patners.
Will my body show any signs of Gonorrhoea?
Not everyone will display symptoms, especially in the early stages. Even if you are showing no signs of an infection, it is important to get tested.
When symptoms do occur, they usually begin to appear between 5 and 30 days after the infection enters the body. These vary from person to person, and may include:
Burning during urination
Painful bowel movement
Unusual discharge
Sore throat
Conjunctivitis
Vaginal bleeding (women)
Pain or swelling in testicles (men).
How can I get tested?
In Northern Ireland, Better2Know has clinics in Belfast, Bangor and Omagh. STI testing is also available at our other clinics across the UK. At Better2Know, we offer you combined testing for many STIs including Gonorrhoea with our Full Screen, Comfort Screen or Platinum Screen. Better2Know's team of medical experts has designed three STI screens specifically for MSM.
If you are concerned about STIs, please call our 24/7 phone line. Our sexual health advisory team will be more than happy to discuss your testing options. Alternatively, you can contact us here.
Sources
[1] BBC: Gonorrhoea cases in Northern Ireland highest on record
[2] The Independent: Sexually transmitted superbug warning as infections soar 26% in a year
[3] The Telegraph: Warning over first case of 'super-gonorrhoea' acquired in the UK
---