Over a quarter of local governments have reduced spending on sexual health testing and treatment services by at least a fifth [1]. These significant cuts put sexual health across the UK at risk. Vulnerable groups, such as drug users, and other high-risk groups, including men who have sex with men (MSM) and young people, are finding it increasingly difficult to access sexual health services [2].
Whilst recent figures confirm that HIV transmission is falling, a reported 26% increase in cases of Gonorrhoea and a 5% increase in Syphilis in recent years highlights the need for widespread access to STI testing and treatment [3]. Since 2014, there has been a 22% drop in the number of young people who are screened for Chlamydia [3].
Government spending on all areas of sexual health has declined, with advice, prevention and health promotion facing the largest decline in funding – dropping 35% [2]. Whilst some areas of the country have prioritised sexual health or maintained spending, others have decreased funding significantly [2].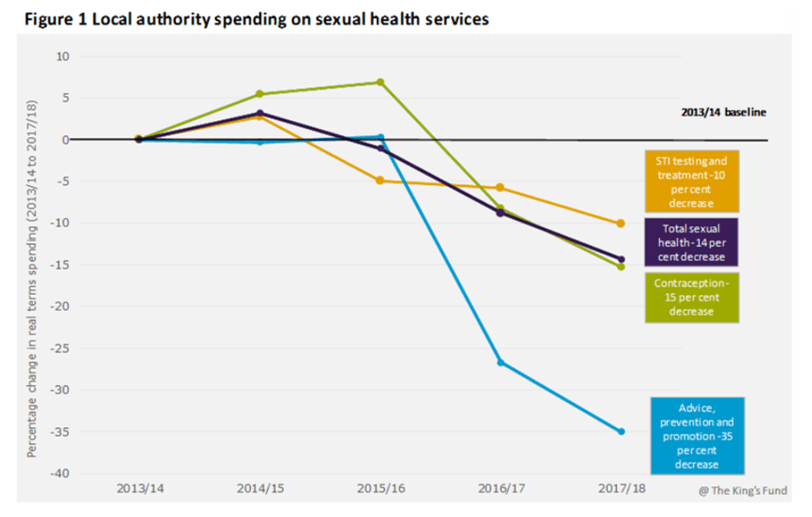 Better2Know recommends…
Protect yourself from STIs by using a condom
Using a condom or dental dam is the best way to prevent catching an STI. Whilst helping to stop the spread of infection to others, having safer sex protects your own long-term health. Even if you use a condom, it's still a good idea to be tested regularly for STIs as no method is 100% effective.
Keep up to date with the Better2Know blog
Maybe you have a good understanding of a wide range of STIs, or maybe you just know a thing or two about the most common infections, like Chlamydia. There is always more to learn, and we can help you with that. With knowledge about sexual health, symptoms to look out for and the risks associated with not getting tested, you will be able to make informed decisions to take control of your own sexual health.
Consider getting tested with Better2Know
If you are worried about your sexual health, don't dwell on it. Speak to our highly trained Sexual Health Advisors now about which test is right for you. We can arrange same day STD testing in many locations with fast results, providing you with the answers you need without the wait. Contact us by phone or live webchat to arrange your confidential appointment.
Sources
[1] The Guardian: How might A&E departments without targets work? Look to sexual health clinics
[2] UK Parliament: Sexual health report 2017-19
[3] GOV.uk: Sexually transmitted infections and screening for chlamydia in England, 2018
---