New diagnoses of HIV in the UK have fallen over a quarter between 2015 and 2018, according to Public Health England. The Government has proposed a new target to end HIV transmissions by 2030. The recent significant fall in new diagnoses of HIV has been attributed to several contributing factors.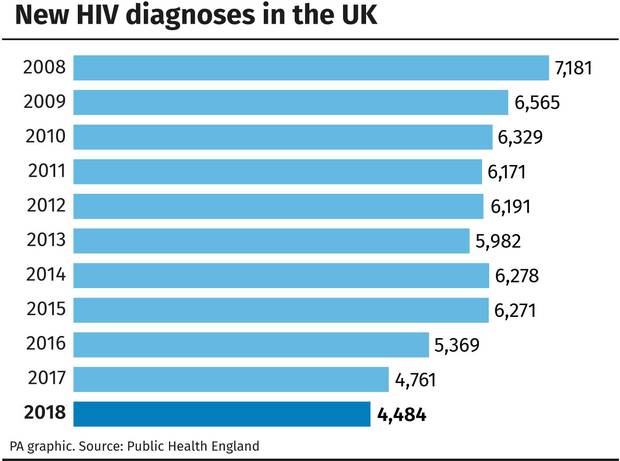 As reported by PHE, the total number of new HIV diagnoses in the UK has fallen by 28%, from 6,271 in 2015 to 4,484 in 2018. The most significant decline in diagnoses of HIV was found amongst gay and bisexual men – a 39% fall from 2015, resulting in a total of 1,908 diagnoses within this group in 2018. For heterosexual individuals, new diagnoses have fallen by 24%. These figures indicate a positive trend for the future, with the Government committing to achieve zero new diagnoses by 2030.
Why has the number of new HIV diagnoses fallen?
More people have adopted favourable attitudes towards HIV testing and recognise the importance of getting tested. Anti-retroviral therapy (ART) prevents the transmission of HIV by keeping the viral load levels in the body low. The increased distribution of condoms through schemes such as C-Card may have also encouraged safer sex and protection against STIs.
In recent years, there has been an increase in the use of the pre-exposure prophylaxis (PrEP) drug which is taken by HIV-negative people at risk of contracting the virus. You can read more about PrEP and post-exposure prophylaxis (PEP) here. The Terrence Higgins Trust has recruited over 13,000 participants for a three-year PrEP trial. Better2Know works closely with the Terrence Higgins Trust, referring those diagnosed with HIV for specialist care and support.
Is the 2030 target realistic?
The Terrence Higgins Trust states: "we have the necessary tools to end transmissions, but we need to maximise these across all groups affected by HIV to ensure that no one is left behind". According to PHE, the largest decline in new diagnoses was found amongst white gay and bisexual men born in the UK, aged 15-24 and living in London. We must work to encourage testing to reduce HIV equally across all demographics and locations. The Terrence Higgins Trust calls for wider access to the PrEP trial.
More emphasis on early diagnosis is important to prevent long-term health complications and passing the virus to others. Around half of those newly diagnosed with HIV last year were found at a later stage of infection. Late diagnosis poses life-threatening risks to health, which is why it is important to get tested if you may have been at risk. Knowing your sexual health status means that you can access the appropriate treatment to lead a normal life.
The recent PHE report brings excellent news about falling rates of HIV infection. One of the main ways to drive infection rates down and achieve the Government's target of zero new diagnoses by 2030 is continued widespread testing. A positive test result will stop HIV in its tracks. Treatments are so good now that the infected person will lead a normal life and will be unable to pass the infection onto their partners. If you are in any doubt about your status, just get tested. It's quick, easy and can save your life and the lives of the people you love.

Michael Asher, Better2Know's Chairman and Chief Executive
Get tested for HIV
If you are worried about HIV, Better2Know can help you get tested today. Many of our clinics across the UK offer Instant HIV Testing where you can get your results in around 20 minutes. We can test you for HIV and other STIs as early as 14 days after any incident of risk with our Early Platinum Screen. Please phone our Patient Services team for sexual health advice, information, or to book an appointment.
Sources
[1] GOV.UK: Trends in new HIV diagnoses and in people receiving HIV-related care in the United Kingdom
[2] The Guardian: HIV diagnoses in England fall to lowest level since 2000
[3] Terrence Higgins Trust: New HIV diagnoses falling, but much more needed to get to zero
---