'A few minutes of discomfort could save your life.'
Cervical Cancer screening has fallen to a 21-year-low. During the weekly clash of PMQs, Theresa May made a personal appeal for women to attend smear test appointments.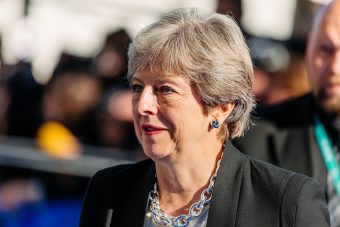 Photo: Arno Mikkor (EU2017EE)
The Prime Minister stood at the despatch box and told a packed Commons Chamber:
"All those of who have had smear tests recognise they are not nice. But they are important.
"If you want to see cancer detected early – have your smear test. A few minutes of discomfort could be saving your life."
The appeal came as a response to the recent release of NHS figures that show just 75.5% of English women received smear tests in the past 5 years. This is the lowest figure recorded since 1997, when recording began. The NHS recommends a smear test every three years for women aged 25 to 49, and every five years for women over 50.
Better2Know Director, Anthea Morris, agrees with the Prime Minister:
"I don't look forward to my Smear Test Day. It is uncomfortable, and I am worried about my body behaving in front of the nurse. Every nurse who has done my test has always been very kind and understanding, making the experience better."
In the past year, 4.46 million women, aged 25 to 64, were invited for a smear test and 1.28 million women did not follow up with their invitation. Charities have warned that more women will die of Cervical Cancer if the number of women having smear tests does not rise. [1] Around 3,200 British women are diagnosed with Cervical Cancer every year, but rates of the disease are estimated to rise by nearly 40% in the next 20 years. [2]
Anthea Morris went on to say:
"I remember discussing smear tests with my friends and us being confused about when we should fist have one. I think it was something we all knew we should have, but I am not sure we knew why we should have it or the link to Cervical Cancer. I think there should be more emphasis on Cervical Cancer prevention than calling it a smear."
The drastic fall in Cervical Cancer screening has prompted the UK National Screening Committee to consider sending self-sample home tests to women who do not respond to their invite for a smear test at a clinic. This enables them to collect their samples for an HPV Test at home. [2]
The British Medical Journal found 'women who had missed screening appointments were more likely to provide a sample for testing as they were to respond to reminders to come to a clinic.' [2]
What is a smear test?
A smear test uses a single swab sample of your cervix to detect abnormal cell changes in the cervix. Some women, as the Prime Minister says, may find sample collection uncomfortable, but it can save your life. Changes in the cells lining your cervix are usually caused by the Human Papilloma Virus (HPV). [4]
There are over 100 different types of HPV, 40 of which are thought to be sexually transmitted.  Fourteen of these are considered high-risk.  They can cause conditions such as Cervical Cancer. HPV types 16 and 18 are the common cause of HPV-related cancers. [4] Other HPV types are seen as low-risk, resulting in infections such as Genital Warts – often caused by HPV types 6 and 11. [5] If your smear test shows abnormal cells in your cervix, it does not mean that you have cancer. You will be referred for more testing. [6]
The earlier you get tested, the earlier you can receive the treatment you need. This will help prevent further health problems from arising due to an untreated or unmanaged infection. Regular smear tests will help prevent Cervical Cancer. The test will identify if you are at high risk of developing the infection, so you can receive the advice and help you need. [7]
How Better2Know Can Help You
Better2Know combines an HPV test with a smear test to give you a full picture of your cervical health. We also provide vaccines for HPV. Speak to a highly trained sexual health advisor today to arrange.
References
[1] DailyMail: 'Smear tests are not nice but they are important': Theresa May urges women to take a up cervical cancer tests as screening hits a 21-year low
[2] DailyMail: Do your OWN smear tests: NHS considers sending DIY kits to British women's homes as study finds they are as accurate as those done in clinics
[3] US National Library of Medicine: Self-Sampling for Human Papillomavirus Testing: Increased Cervical Cancer Screening Participation and Incorporation in International Screening Programs
[4] Jo's Cervical Cancer Trust: HPV and Cervical Cancer
[5] Jo's Cervical Cancer Trust: HPV and Genital Warts
[6] NHS: Cervical Screening
[7] Jo's Cervical Cancer Trust: Frequently asked questions for Cervical screening
---