Today is World Hepatitis Day. This year's theme 'Hepatitis Can't Wait' highlights that, despite the challenges presented by the Covid-19 pandemic, we must act on Hepatitis. Every 30 seconds, a person dies from a Hepatitis-related illness.
Each year on 28th July, World Hepatitis Day takes place – a day dedicated to raising awareness of Hepatitis and influencing positive action to encourage global change.
In 2016, the World Health Organisation (WHO) launched a campaign to eliminate Hepatitis by 2030. The WHO's global Hepatitis strategy aims to reduce new Hepatitis infections by 90% and deaths by 65%.
In order to make progressive steps towards this goal, the 'Can't Wait' campaign hopes to highlight the need to accelerate efforts towards eliminating Hepatitis. This year's theme emphasises the urgency of Hepatitis testing, treatment and decision-making for all those involved:
People living with viral Hepatitis unaware can't wait for testing
People living with Hepatitis can't wait for life-saving treatments
Expectant mothers can't wait for Hepatitis screening and treatment
New-born babies can't wait for birth dose vaccination
People affected by Hepatitis can't wait to end stigma and discrimination
Community organisations can't wait for greater investment
Decision makers can't wait and must act now to make Hepatitis elimination a reality through political will and funding.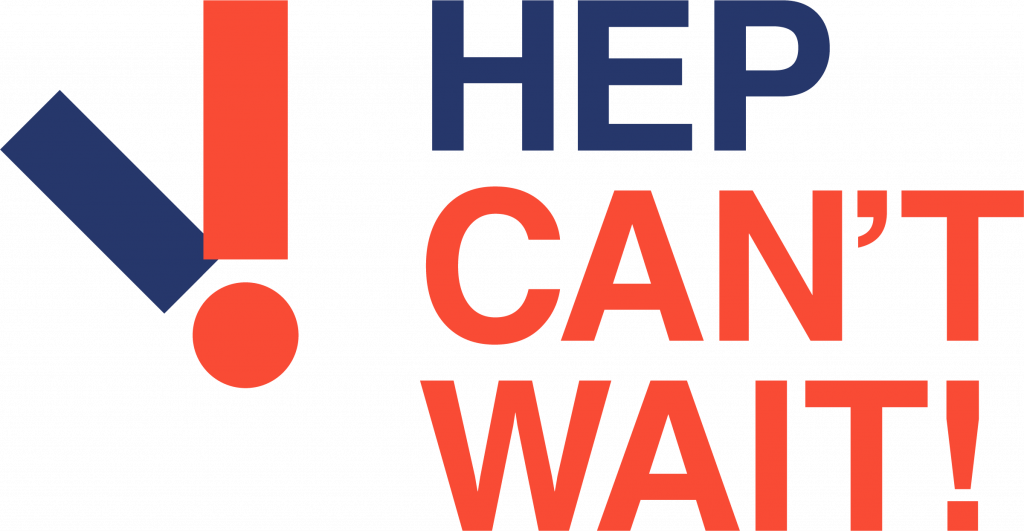 What is Hepatitis?
Hepatitis is a viral infection of the liver which can lead to severe liver disease. Hepatitis A, B and C are the main types of the virus. Types B and C are the most common causes of liver cirrhosis, liver cancer and viral Hepatitis-related deaths. Read more about Hepatitis A, B and C here.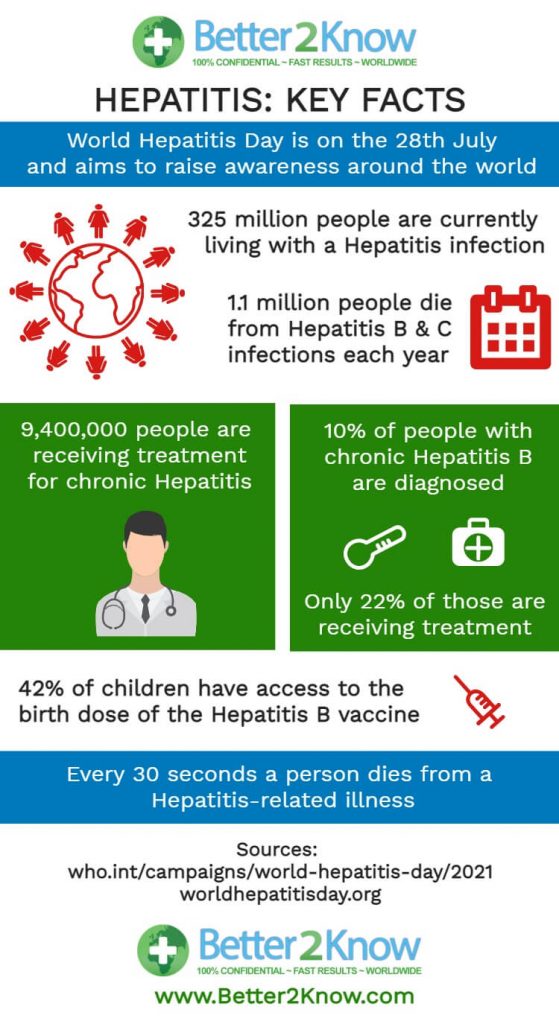 Global Hepatitis statistics
325 million people live with a Hepatitis infection
1,100,000 people die from Hepatitis B and C infections each year
9,400,000 people are receiving treatment for chronic Hepatitis
10% of people with a chronic Hepatitis B infection are diagnosed, and 22% of those are receiving treatment
42% of children have access to the birth dose of the Hepatitis B vaccine.
Hepatitis Testing
Better2Know is here to help you protect your health. If you are concerned about Hepatitis, or you do not know your Hepatitis status and you may have been at risk, you should consider getting tested as soon as possible.
Better2Know can arrange individual tests for Hepatitis A, Hepatitis B and Hepatitis C, or you can test for all three strains with our Hepatitis Screen. Alternatively, Hepatitis testing is available in several comprehensive Better2Know screens which combine testing for a range of sexually transmitted infections (STIs) to provide a full overview of your sexual health.
Testing for Hepatitis is quick, easy and could save your life. Speak to Better2Know in confidence today.
Sources
---