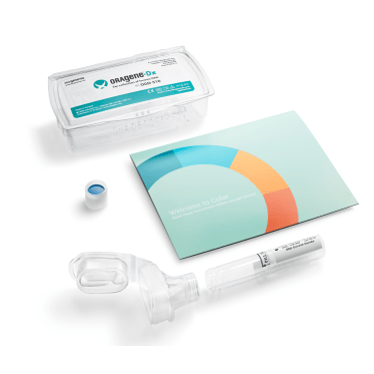 Product Description
Better2Know Terms & Conditions
Gene Testing Home Kit
What is Genetic Testing?
Genetic testing will help identify if you are at a higher risk of developing conditions such as heart disease or cancer. Your Better2Know gene test will tell you whether you have any gene mutations that may mean an increased risk of future diseases or conditions.
Why should I consider Genetic Testing?
You may choose to get genetic testing if you are concerned about hereditary cancers or heart conditions. Earlier detection of your personal risk will enable proactive care; you can take preventative measures to reduce your chances of developing future health problems.
What is the Better2Know Gene Testing process?
Before you take your test, you will be invited to a pre-test consultation with one of our experienced doctors who will go through the test and the implication of any results you might receive. Following this, your sample collection kit will then be sent to you.
Better2Know's accredited laboratory uses a single sample of saliva to detect any gene mutations that indicate a higher chance of heart conditions or cancers developing. Your genetic home testing kit will contain detailed instructions on how to collect your sample, a saliva tube, a blue cap and a plastic bag. You will also find a pre-paid return envelope, please use this to send your sample directly to our laboratory for testing.
When will my home testing kit arrive?
Your Better2Know home test will be sent using first class post on the very same day, if you order before 4pm, Monday to Friday.
How will I receive my test results?
Your results will be available within 3-4 weeks after your sample has arrived at the laboratory. Better2Know's expert advisors will contact you once all your results are ready to report. Alternatively, you can choose to phone us instead.
What should I do with my results?
Your genetic home test will not diagnose your condition. Your results will detail whether you have any gene mutations that can mean your personal risk of common hereditary cancers or heart disease is higher than usual. Nor does a negative result mean you will never develop any future conditions.
If your results are positive for any of the genes tested, Better2Know will help you arrange an appointment with one of our specialists who can go into more detail about your results and appropriate next steps.
How can I order my home test?
Order your Genetic home testing kit now by adding the test to your basket now, and proceed to payment. Alternatively, if you have any other questions, simply phone us on the number displayed at the top of the page. Lines are open 24/7 for your convenience. Our team of expert advisors will help you with any additional queries and ordering your gene test.
FAQs
Frequently Asked Questions
When is my order dispatched?
All orders placed before 4.00pm are dispatched the same day in the first class post.
How much is delivery?
First class postage is free for all products.