Covid-19 Swab Test
« View All Products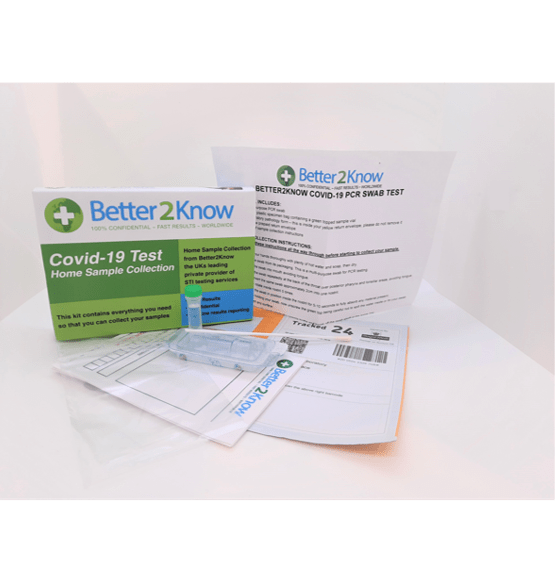 Product Description
How it works
FAQs
Product Description
Covid-19 (Coronavirus) Home Testing Kit
This Covid-19 home test requires a combined nose/throat swab sample to be collected and sent back to our accredited UK laboratory for testing. Inside your home testing package, you will find:
A sterile PCR swab
A pathology form
A transparent sealable bag
A full set of sample collection and how to return your swab instructions
Postage-paid return envelope to the laboratory
Details for contacting Better2Know with any questions.
Once you have taken your sample, please use the postage-paid envelope to send it to our laboratory.
---
Why test for Covid-19 with Better2Know?
Highly accurate results. This test has a 99.9% accuracy with the correct sampling technique.
Fast turnaround time. You will receive your results within two working days of your sample's arrival at our laboratory.
Confidentiality. Your test results and personal information will always be dealt with complete privacy.
Accredited laboratories. All tests are performed at the highest clinical standards in our certified UK laboratories.
World class patient support. Our friendly and experienced Patient Services team are available to answer your queries 24/7.
First Class Post Order before 4pm, and your test kit will normally be sent out on the same day.
Online results. Track your results online in your secure Patient Area at any time. We will email you as soon as your results are ready to view.
Follow-up call. If you test positive, you can speak to one of our highly trained advisors to discuss your result.
Live chat. Contact our advisors discreetly using our online webchat.
What should I do when I receive my kit?
Once you have received your home test in the post, you can take your sample. You will be required to take a swab of the back of your throat, then inside your nostril using the same swab. Your kit includes a detailed set of instructions guiding you on how to collect your sample correctly. Once you have taken your sample, please use the pre-paid return envelope to send it to our laboratory.
When can I have this test?
You should wait at least 5 days after potential exposure to Covid-19 before having this test.
Who can get a coronavirus home test?
This test is suitable and available to anyone who is worried that they have Covid-19 now. You may be displaying symptoms such as a fever or continuous cough or have recently been in contact with someone who has coronavirus.
What is an antigen test?
A PCR swab is used to detect the presence of an antigen. By looking for the genetic information (RNA) of the virus, an antigen test will determine whether a person is actively infected with the virus at the time of the test.
How does the Covid-19 PCR test work?
The Better2Know test uses state of the art PCR techniques to look for all current strains of the virus. The principle of PCR is to extract, amplify and identify the viral RNA sequence of the virus. This testing method ensures the high degree of specificity of this test for the Wuhan and related strains of Coronavirus nCoV-2019. Our test is sensitive to fewer than 100 copies of the target viral RNA, making it a highly accurate test.
How accurate is the test?
This Covid-19 test is 99.9% accurate with the correct sample taking technique. It is important that you follow the instructions included in your test kit.
The current evidence shows a mean incubation period before symptoms emerge of 5 days. This test has a sensitivity of under 100 copies of viral RNA and shows 100% homology to the current strains of the virus. This means that, provided there are more than 100 copies of viral RNA in the sample, the test will successfully detect it.
Please bear in mind that this is a newly identified organism and there is much that the medical and scientific community have yet to learn about it.
When will my home testing kit arrive?
Orders placed before 4pm, Monday to Friday, will be sent out on the same day by first class post.
How will I receive my results?
You can track your results in your online Patient Area using the log-in details you will receive at the time of booking. A member of our Patient Services team will contact you in the case of a positive result. Our advisors work around the clock to ensure that you receive your results as soon as possible.
How much does a coronavirus test kit cost?
Our Covid-19 Home PCR Swab Test is available for £125.
How it works
How It Works
Buying your home test kits online is simple:
1

Buy your test online.

2

Receive it in the post.

3

Provide a sample.

4

Free return postage to the lab.

5

Check your results securely online.
We provide a completely confidential and anonymous service. Please refer to our FAQs above, for more information. If you have any additional questions, please do not hesitate to contact us, using the phone number at the top of the page.
FAQs
Frequently Asked Questions
Q: When will you send my kit to me?
If your order is placed before 4pm on a working day, then it will be sent the same day. Otherwise it will be sent on the next working day.
Q: Why do you need my email address?
Your Patient Services Manager, Louise Wright, will email you your login details to access your results, a confirmation your kit has been dispatched and finally when all your results are ready. We do not sell on or email you any other marketing materials, that is why we do not ask you to opt in or out of anything.
Q: Do I need to use my real name?
No, but the postman does need to know where to deliver the kit to. As long as you use a name that will get the kit to you, then we do not need your real name.
Q: What if I do not want to pay by card?
Our payment reference on your card will show up as "health screen" so it will not link your purchase to Better2Know. If you do not want to pay by card then we can also accept PayPal and cash. Please call our Patient Services Team to arrange payment.
Q: What does the kit packaging look like?
It will arrive in plain white envelope with your typed name and address on it.
Q: What if I have any more questions?
You can email Louise by replying to one of the emails she has sent to you. She will do her best to answer them.