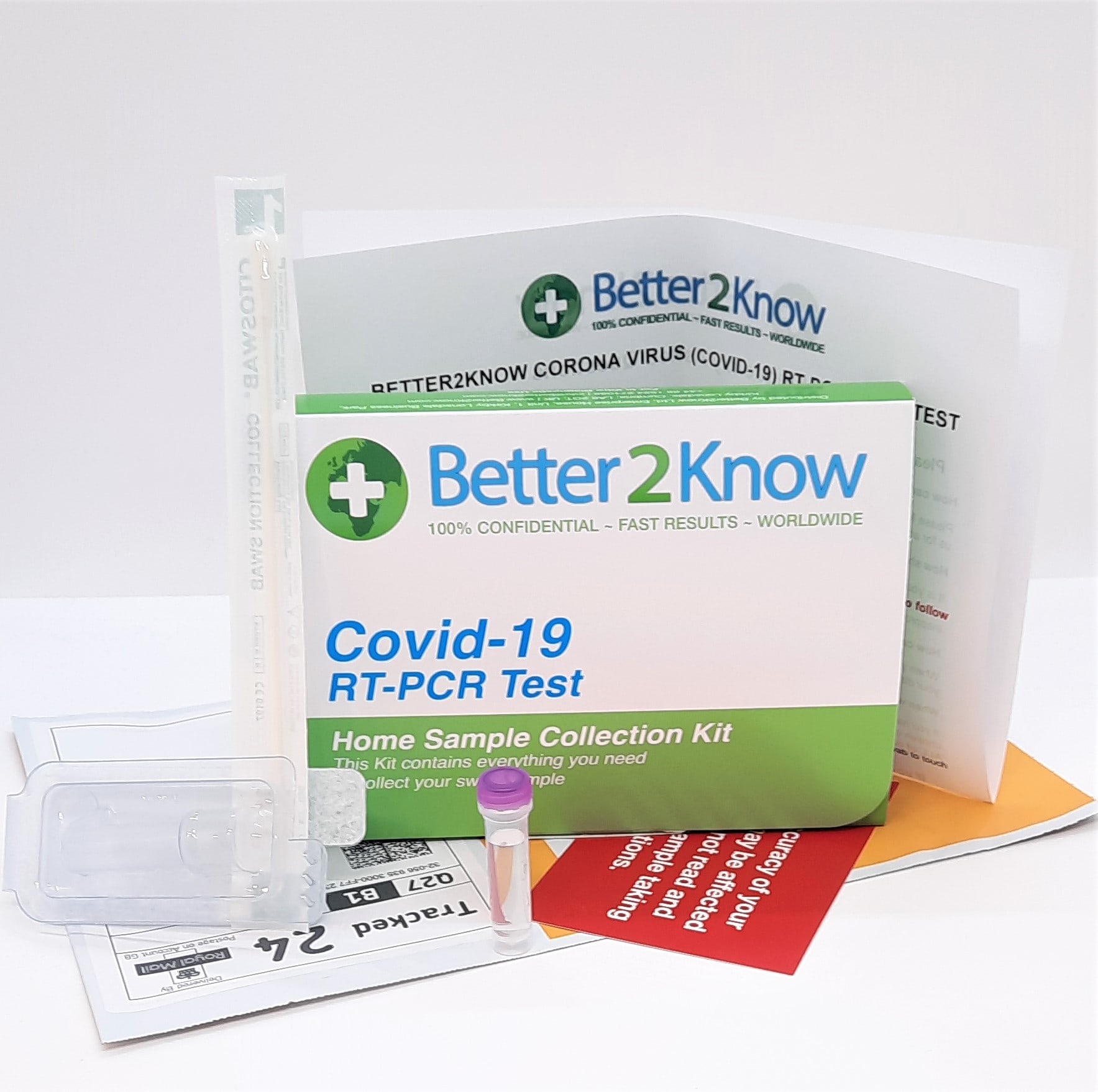 Product Description
How it works
FAQs
Product Description
Better2Know Terms & Conditions
Covid-19 (Coronavirus) Swab Home Test Kit and Fit to Fly
NEW! 24 hour Covid-19 RT-PCR results with our "Priority" Service! Money Back Guarantee
Better2Know's new Priority Service will provide your Covid-19 test results within 24 hours of your sample being received in the testing laboratory. This helps you to get your result in a specific time frame if you need a Fit to Fly certificate or medical certificate for any other event.
We know that getting your results fast is critically important. Better2Know has negotiated a new Priority Service with a leading UKAS accredited laboratory, so that we are able to provide you with your result in just 24 hours from when your sample arrives at the lab. This option is perfect for anyone needing fast results and a Fit to Fly Certificate prior to travelling, or anyone heading back to work, school, or university.
Our Standard Service provides the same quality of results, but these can take around 48 hours from when the sample is received in the laboratory. For anyone not facing a deadline, this option is ideal for you. Please note that both swab tests are able to detect all known variants of Covid-19.
We offer several different PCR swab testing options:
Fit to Fly Priority Service (24-hour results turnaround time and certificate)
Fit to Fly Standard Service (includes certificate)
Fit to Fly Standard Service + Testing on Day 2 (suitable if you are travelling to a green country, or an amber country and you are fully vaccinated)
Standard PCR Swab Test.
Please be aware that you must order the test kit in the name of the person who will be taking the test.
Our Covid-19 home test requires a combined nose/throat swab sample to be collected and sent back to our accredited UK laboratory for testing. Inside your home testing package, you will find:
A multipurpose PCR swab
A pathology form
A full set of sample collection instructions
A postage-paid, tracked envelope to return your sample to the laboratory.
All Priority orders will be sent by Special Delivery. Standard orders include first class post. We recommend upgrading to include special delivery. First class post is not a tracked or guaranteed service. Please read the following information carefully.
Royal Mail Delivery Information: Please order your test as early as possible to allow extra time for your kit to arrive. Due to the pandemic, Royal Mail is experiencing delays due to a significant increase in post being delivered. If you intend to use the Post Office, please purchase your test kit early and return your sample to the lab on time.
---
Who is the combined Test and Certificate option for?
If you need your results within a specific time frame, either to fly or to enable you to return to work, school or university promptly, please click 'Buy Now' and choose our Priority Service. For non-urgent results, please choose our Standard Service.
If you are travelling abroad, read more here about our Fit to Fly Test and Certificate. Please make sure that you understand the timing, testing and certificate requirements for all passengers in accordance with your airline and destination. Please note that not all airlines will accept results from home sample collection kits, and it is your responsibility to check this.
Our Fit to Fly and Testing on Day 2 combined option is suitable if you are travelling to a green country or an amber country (if you have been fully vaccinated).
Please note that, if you choose this option, your tests will be delivered separately. If you order your Fit to Fly test before 4pm, Monday to Friday, we will ship it to you on the very same day. Your Day 2 test will be shipped the day before you arrive in England or Northern Ireland. Your kit should arrive with you on Day 0 (the day you arrive). If your Day 0 falls on Sunday or Monday, we will post your kit to you on Friday or Saturday, depending on when it is ordered.
When will I receive my results?
If you require your results quickly, our Priority Service provides results within 24 hours after your sample arrives at the laboratory. Money back guarantee.
With our Standard Service, your results will normally be ready within 48 hours after the lab receives your sample. Our advisors work around the clock to ensure that you receive your results as soon as possible.
What does the Priority Service include?
Our Priority Service includes:
Special delivery of the test kit to your address
Postage-paid, tracked envelope to return your sample to the laboratory
Priority analysis of your PCR swab in a UKAS accredited laboratory
Results uploaded to your online Patient Area within 24 hours of your sample arriving at the lab
Fit to Fly Covid-19 Medical Certificate sent to you by email
24/7 Patient Support.
When should I take my Fit to Fly test to ensure that I receive my certificate within my required time frame?
Please collect your sample and send it to the laboratory the day before your required time window begins. For example, if you are required to have a certificate dated within three days of your flight, please post your sample four days before your flight. It is the patient's responsibility to ensure that their sample reaches the laboratory in time.
When should I order my Fit to Fly test?
You can order your test kit as far in advance as you would like. Please ensure that you order at least 7-10 days before your flight. All orders will be sent by tracked, special delivery.
Better2Know posts kits Monday to Friday. If you order your kit before 4pm on a working day, we will send it to you on the same day and you should receive your kit the following day. Please note that there is no post on a Sunday.
How will I receive my results and certificate?
As soon as your sample has been processed, we will email you to notify you that your result is ready to view online in your Patient Area. We will also email your certificate and pathology report to you. You can access your secure Patient Area using the log-in details provided to you at the time of booking.
What should I do when I receive my kit?
Once you have received your home test in the post, you can take your sample. You will be required to take a swab of the back of your throat, then inside your nostril using the same swab. Your kit includes a detailed set of instructions guiding you on how to collect your sample correctly. Once you have taken your sample, please use the pre-paid, tracked return envelope and send it to our laboratory on the same day.
Why test for Covid-19 with Better2Know?
Highly accurate results. This test has a 99.9% accuracy with the correct sampling technique.
Confidentiality. Your test results and personal information will always be dealt with in complete privacy.
Accredited laboratories. All tests are performed at the highest clinical standards in our certified UK laboratories.
World class patient support. Our friendly and experienced Patient Services team are available to answer your queries 24/7.
Special delivery. All PCR swab orders can be sent by tracked, special delivery (included in priority swabs).
Order before 4pm and your test kit will normally be sent out on the same day (Monday to Saturday).
Online results. Track your results online in your secure Patient Area at any time. We will email you as soon as your results are ready to view.
Follow-up call. If you test positive, you can speak to one of our highly trained advisors to discuss your result.
Live chat. Contact our advisors discreetly using our online webchat.
Who can get a coronavirus home test?
This Covid-19 home test kit is suitable for:
Anyone concerned about their Covid-19 status
Anyone who needs a Covid-19 Fit To Fly Certificate
Patients who need to travel for work or leisure purposes
Patients being admitted to hospital
Patients with Covid-19 symptoms.
What is an antigen test?
A PCR swab is used to detect the presence of an antigen. By looking for the genetic information (RNA) of the virus, an antigen test will determine whether a person is actively infected with the virus at the time of the test.
How does the Covid-19 PCR test work?
The Better2Know test uses state of the art PCR techniques to look for all current strains of the virus. The principle of PCR is to extract, amplify and identify the viral RNA sequence of the virus. This testing method ensures the high degree of specificity of this test for the Wuhan and related strains of Coronavirus nCoV-2019. Our test is sensitive to fewer than 100 copies of the target viral RNA, making it a highly accurate test.
How accurate is the test?
This Covid-19 test is 99.9% accurate with the correct sample taking technique. It is important that you follow the instructions included in your test kit.
The current evidence shows a mean incubation period before symptoms emerge of 5 days. This test has a sensitivity of under 100 copies of viral RNA and shows 100% homology to the current strains of the virus. This means that, provided there are more than 100 copies of viral RNA in the sample, the test will successfully detect it.
Please bear in mind that this is a newly identified organism and there is much that the medical and scientific community have yet to learn about it.
How much does a coronavirus test kit cost?
Our Covid-19 Home PCR Swab Test is available on its own for £68.95. Our combined Test and Certificate options are: £199 for Priority Service or £68.95 for Standard Service.
What if I change my mind?
We are able to offer a refund (less an admin fee) if you return your kit to us within 14 days of its arrival with you. There are more details about this in our Terms and Conditions. You can keep your kit to use at any time within the next six months.
How it works
How It Works
Buying your home test kits online is simple:
1

Buy your test online.

2

Receive it in the post.

3

Provide a sample.

4

Free return postage to the lab.

5

Check your results securely online.
We provide a completely confidential and anonymous service. Please refer to our FAQs above, for more information. If you have any additional questions, please do not hesitate to contact us, using the phone number at the top of the page.
FAQs
Frequently Asked Questions
Testing
Q: How do I send my sample to the laboratory?
Inside your kit, you will find a postage-paid, tracked return envelope which should be placed in a Royal Mail Priority post box. Please use the Royal Mail website to find your nearest Priority post box. Your pathology form must arrive at the lab with your sample.
Q: How do I know if I am taking my sample correctly?
You must follow the instructions provided in your kit. This ensures the accuracy of your test, which is 99.9% with the correct sampling technique.
Q: Is the certificate provided by Better2Know legitimate to travel with?
Yes. If you choose our combined test and certificate option because you are travelling abroad, our certificate is globally recognised. All Better2Know tests are performed in accredited laboratories at the highest international standards.
Q: Will my test be able to detect the new variant of Covid-19?
Yes, both our Standard and Priority tests can detect all known variants of the virus.
---
Delivery
Q: When will my kit be posted to me?
If your order is placed before 4pm on a working day, it will normally be sent to you on the same day by special delivery. Orders placed after 4pm will be sent the next working day, while orders placed over the weekend will be sent out on Monday. In periods of high demand, we will do our best to meet this deadline, but there may be occasions when kits are dispatched the next working day. If so, this will be clearly indicated at the top of the webpage.
Q: Will I be able to track my sample to the laboratory?
Yes, your postage-paid return envelope is tracked by Royal Mail. Following the dispatch of your test kit, we will send you an email with your tracking number. If you are having problems tracking your parcel, please contact Royal Mail.
Q: What does the kit packaging look like?
Your kit will arrive in a plain envelope with your typed name and address on it.
Q: Does the turnaround time include transit times for the kit to reach me and the sample to reach the laboratory?
No, the given turnaround time is the usual time our laboratory requires to analyse your sample and determine your result.
Q: How can I arrange faster delivery?
If you require your test kit urgently, you can either collect it from our Headquarters or arrange for a courier to collect it for you. If you choose our Priority Service, we can arrange a courier for £495.00. Please phone our booking team to find out more.
Q: Does my order include Special Delivery?
All Covid-19 PCR swab orders include tracked, Special Delivery and also include return tracking to the lab.
---
Confidentiality
Q: Why do you need my email address?
When you place your order, we will email your login details to access your results online. We will also send a confirmation email when your kit has been dispatched and notify you when your results are ready. We do not email any marketing materials or sell on your details to any third parties, hence why we do not ask you to opt-in or opt-out.
Q: Who will have access to my results?
Better2Know will never share your test results with anyone else, including your GP, without your permission. Your results and personal data are kept completely private and confidential.
Q: Do I have to use my real name?
Yes, all Covid-19 swab tests must be taken using your own name. You cannot give your named kit to someone else to use.
---
Other
Q: What if I have any more questions?
You can reply to one of the emails sent to you by Louise from our Patient Services team. You can also contact our advisors by sending a message using our live chat facility or phoning our team who are available 24 hours a day, 7 days a week.
---