GOVERNMENT APPROVED
Covid-19 Testing on Day 2 and Day 8 for International Arrivals
« View All Products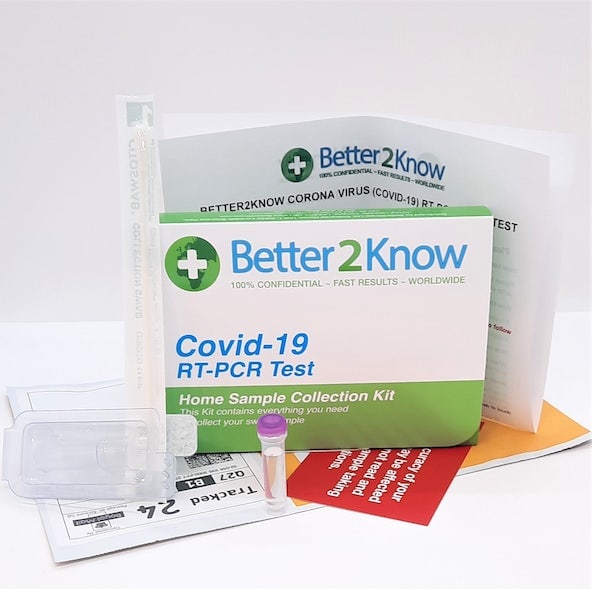 Product Description
How it works
FAQs
Product Description
Better2Know Terms & Conditions
Covid-19 Testing on Day 2 and Day 8 for International Arrivals
This test is required by the UK Government if you are arriving in the UK from overseas. It is a mandatory requirement for everyone arriving into the UK (unless you are specifically exempt) to take a Covid-19 PCR test on or before Day 2 of your self-isolation period, and then another test on or after Day 8. All arrivals must also quarantine for 10 days, either in an approved hotel (if returning from a red list country) or an alternative approved location (if returning from any other country).
If your Day 2 test is positive, it will undergo further testing to identify variants of Covid-19. This is important to prevent new variants coming into the UK. Your Day 8 test is the final test before the end of your quarantine period.
Better2Know and its laboratory partners are Government-approved registered private providers for Testing on Day 2 and Day 8. You must order your Day 2 and Day 8 tests before you return to the UK. Failure to do so may incur fines and other penalties. You can order your tests as early as is convenient for you, and we will ship them to you on the required days.
When you order your tests, we will ask you to provide details about yourself and your journey. You will then receive a unique reference number, which you must enter on your passenger locator form before you arrive in the UK.
If you are returning to the UK from a country which is not on the UK Government's red list, you are eligible to shorten your 10-day self-isolation period with our Test to Release on Day 5. You must still do the Day 8 test.
All orders include Special Delivery, so you can track the delivery of your kit. To order your Covid-19 Day 2 and Day 8 tests, please click the Buy Now button above and select your chosen testing option. Your selected option will include both a Day 2 and Day 8 test.
---
What should I do when I arrive in the UK?
All international arrivals are required to self-isolate. You should go straight to your self-isolation address. If you are returning from a country which is on the red list, you must quarantine in a Government approved hotel. If you are returning from a country which is not on the red list, you must quarantine either in your own home, with friends and family, or in a hotel. Please read more about how and where to self-isolate on the Government's website.
When will I receive my test kits?
Your tests will be sent separately in accordance with Government guidelines. We will dispatch your Day 2 test kit to you by post on the day before you arrive in the UK. It should arrive on Day 0, the day you arrive in the UK. You must take this test anytime between when you arrive in the UK and Day 2 of your quarantine. We will dispatch your second test to you on the seventh day of your self-isolation. Your Day 8 test kit should arrive on Day 8. If Day 8 falls on a Sunday, your kit will be dispatched on the Saturday for receipt by you on the Monday.
Please note that, by law, we cannot send your tests to you earlier than this. You should, however, order your tests as early as possible, prior to your arrival in the UK.
What should I do when I receive my test kit?
Please read the instructions included in your test kit carefully. You should then collect your sample using the swab provided and send it to our laboratory on the same day using the postage-paid return envelope. The Royal Mail is experiencing severe pressure during the pandemic so you may wish to consider returning your sample using a courier of your choice.
How will I receive my results?
Your results will be available to view online in your secure patient area. We will send you an email as soon as your results are ready. You can access your patient area using the log-in details provided to you at the time of booking. Your patient area will also tell you what to do next, depending on your result. You will also be able to download a document showing proof of your results.
You will receive a different log-in for each of the two tests so that you can be clear which result relates to which test.
Can I stop self-isolating if I test negative?
In accordance with the UK Government's guidelines, even if you test negative for Covid-19 on Day 2 or Day 8, you must continue to self-isolate for the full 10 days. You can only shorten your self-isolation period if you test negative with our Test to Release. This is a separate test which you can order from Better2Know's website.
What if I test positive for Covid-19?
You must self-isolate for 10 days from the day after your test date, even if you do not have symptoms of Covid-19. People who you live with or are travelling with should also self-isolate for 10 days.
How much does a Covid-19 Day 2 and Day 8 test cost?
Our Standard Service is available for £209.
What if I change my mind?
As Day 2 and Day 8 testing is a legal requirement, you are required to show your Better2Know Confirmation Number to your airline. Cancellations will only be accepted 48 hours before your time of departure to the United Kingdom. We are unable to process any cancellation after this time due to UK Government requirements.
How it works
How It Works
Buying your home test kits online is simple:
1

Buy your test online.

2

Receive it in the post.

3

Provide a sample.

4

Free return postage to the lab.

5

Check your results securely online.
We provide a completely confidential and anonymous service. Please refer to our FAQs above, for more information. If you have any additional questions, please do not hesitate to contact us, using the phone number at the top of the page.
FAQs
Frequently Asked Questions
Testing
Q: Does the turnaround time include transit times for the kit to reach me and the sample to reach the laboratory?
No, the turnaround time is the time our laboratory usually requires to analyse your sample and provide your result.
Q: Am I taking my sample correctly?
Your kit includes a full set of instructions detailing how to collect your sample.
Q: How should I send my sample to the laboratory?
Inside your test kit, you will find a postage-paid return envelope. Your sample should be sent to the laboratory with your pathology form in this envelope. Please use a Royal Mail Priority post box. You can find your nearest Priority post box on the Royal Mail website.
---
Delivery
Q: Does my order include Special Delivery?
Yes, all Covid-19 PCR swabs include tracked, special delivery.
Q: What does the test kit look like?
Your kit will arrive in a plain grey envelope with your typed name and address.
Q: Can I track my sample to the laboratory?
Yes, your return envelope is tracked by Royal Mail. We will send you an email with your tracking number when we dispatch your kit. If you are having problems tracking your parcel, please contact Royal Mail.
---
Confidentiality
Q: Why do I need to provide my email address?
Once you have placed your order, we will send you a confirmation email, along with your login details to access your results online. We will also send an email when your kit has been dispatched and to let you know when your results are ready.
---
Other
Q: What if I have more questions?
You can contact our advisors by sending a message using our live chat or phoning our team who are available 24 hours a day, 7 days a week. You can also reply to one of the emails sent to you by Louise from Patient Services.
---