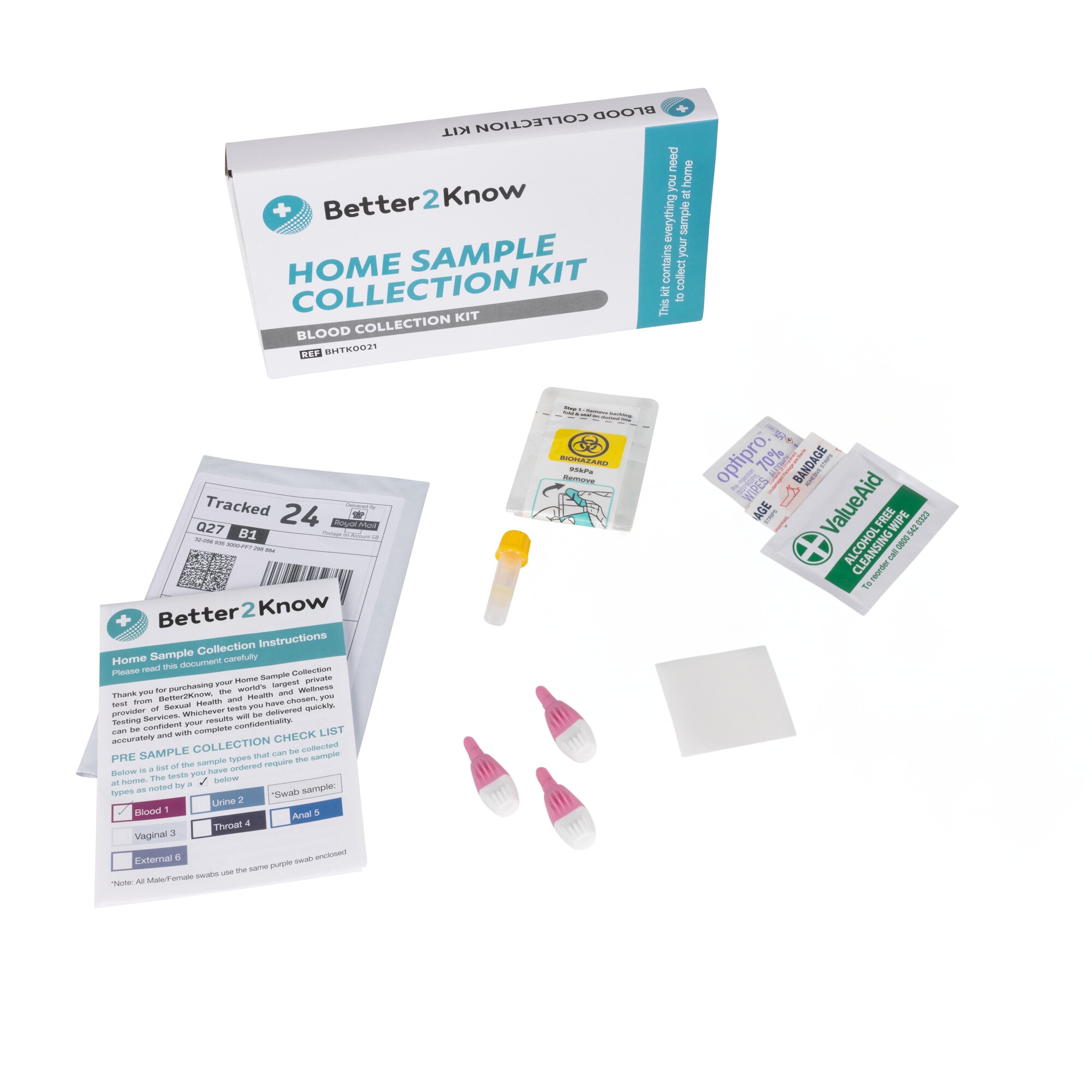 Product Description
How it works
FAQs
Product Description
Better2Know Terms & Conditions
What is FSH?
Follicle Stimulating Hormone (FSH) is one of the hormones associated with the development and regulation of the female reproductive system. In women, FSH is responsible for maintaining menstrual cycles and the growth of ovarian follicles which produce oestrogen and progesterone in the ovaries. Progesterone's most important function is to prepare the uterus to receive a fertilised egg. In men FSH is important for the development of the reproductive glands and has a role in the production of sperm.
A lack of FSH in the body will lead to menstrual irregularities in women and lower sperm production in men. A lower than normal level of FSH may cause delayed puberty in boys and girls of that age and a higher than normal level will conversely lead to the onset of precocious (early) puberty.
Why should I consider an FSH test?
The Better2Know Your Body's FSH home test could help both men and women to identify potential fertility issues such as ovarian or sperm production failure. In the case of irregular periods, an FSH home test could also help to rule out ovarian failure or the onset of the menopause.
What is the Better2Know Your Body home testing process?
The Better2Know Your Body home testing kit will arrive packaged in a discrete plain envelope. Your FSH home test uses a single blood sample for quick, efficient analysis. Your kit will contain a free-to-use envelope, a pathology form, three finger prick lancets, a gold-topped collection tube and wipes. Our highly trained Patient Services team will email you with instructions to help with sample collection. After you have taken your blood sample, please use the postage paid return envelope to send it to Better2Know Your Body's UK-based laboratory.
When will my home testing kit arrive?
Orders that are made before 4pm, Monday to Friday, will be dispatched on the same day.
How will I receive my test results?
You will receive your results just one working day after your sample has arrived at our lab. Better2Know Your Body's experienced advisors will contact you by email as soon as your results are available. You can also use our secure patient area on the Better2Know Your Body website to view your confidential results at any time. Your log in details will be provided as soon as we have processed your order.
What should I do with my results?
If your results show abnormal levels of FSH, you should seek medical advice. Better2Know Your Body can organise a private consultation with one of our many doctors nationwide. Your doctor will discuss your results in more detail and suggest suitable treatment options.
How can I order my home test?
To order your FSH home testing kit from Better2Know Your Body today, you can call our trained Patient Services team on the number above. They will answer additional questions and process your order. By selecting the blue, 'Add to Basket' button you can proceed to the checkout page and confirm your order online now.
How it works
How It Works
Buying your home test kits online is simple:
1

Buy your test online.

2

Receive it in the post.

3

Provide a sample.

4

Free return postage to the lab.

5

Check your results securely online.
We provide a completely confidential and anonymous service. Please refer to our FAQs above, for more information. If you have any additional questions, please do not hesitate to contact us, using the phone number at the top of the page.
FAQs
Frequently Asked Questions
Q: When will you send my kit to me?
If your order is placed before 4pm on a working day, then it will be sent the same day. Otherwise it will be sent on the next working day.
Q: Why do you need my email address?
Your Patient Services Manager, Louise Wright, will email you your login details to access your results, a confirmation your kit has been dispatched and finally when all your results are ready. We do not sell on or email you any other marketing materials, that is why we do not ask you to opt in or out of anything.
Q: Do I need to use my real name?
No, but the postman does need to know where to deliver the kit to. As long as you use a name that will get the kit to you, then we do not need your real name.
Q: What does the kit packaging look like?
It will arrive in plain white envelope with your typed name and address on it.
Q: What if I have any more questions?
You can email Louise by replying to one of the emails she has sent to you. She will do her best to answer them.