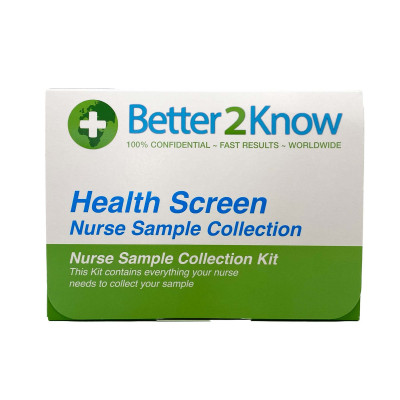 Product Description
How it works
FAQs
Product Description
Better2Know Terms & Conditions
What is a Full Blood Count?
A Full Blood Count (FBC) is used as a broad screening test. It is made up of a panel of eleven individual tests to check for disorders such as anaemia, any infection, or other diseases. Within the blood, there are many different cells including red blood cells, white blood cells (five types), and platelets, all suspended in plasma. The Better2Know Full Blood Count home test will show up any changes from normal levels for the different components in the blood and give important information about your health.
This kit needs a professional to collect your blood sample for you.
Why should I consider a Full Blood Count?
If you feel unwell, tired, or withdrawn, then a Full Blood Count may help identify the cause. Abnormalities in the results of your blood cell count can indicate anaemia, infection, inflammation, clotting problems or several other significant medical disorders. This broad blood screen provides important information about actual or potential health problems. If you have been feeling unwell or are simply looking for a broad blood test as part of a health check, then a Full Blood Count with Better2Know may be able to help a diagnosis.
What is the Better2Know home testing process?
The Better2Know Full Blood Count can be carried out on a single blood sample. Inside your discreetly packaged home testing kit you will find everything you need to give to your nurse or other clinician who will collect your blood sample for you, You will also receive a postage-paid return envelope, so you can send your sample directly to our laboratory. In addition, Better2Know will email you with clear and detailed sample collection instructions. Please be sure to read these carefully. When your nurse has taken your blood sample, put the tube in the envelope provided along with the pathology request form, and send it directly to our accredited laboratory for swift and efficient analysis.
When will my home testing kit arrive?
Better2Know home tests ordered before 4 pm on a weekday will be dispatched using first class post on the same day. You can also upgrade to special delivery on checkout.
How will I receive my test results?
The results of your Full Blood Count home test will be ready the same working day as receipt of your sample in the laboratory. Better2Know's test results are highly accurate and are dealt with in the strictest confidence. Once your results are available, you will be contacted by a member of our Patient Services team. You can then access your results online via the secure patient login area of our website at any time to suit you.
What should I do with my results?
If you receive abnormal blood count results, you should see a GP. Better2Know has a network of experienced doctors situated across the UK. Our dedicated team of Patient Services Executives can organise private consultations nationwide, either before your full blood count home test or following your results. You can, of course, take your results to your own GP if you prefer.
How can I order my home test?
You can buy your home test now by selecting the 'Add to Basket' button above. You can also purchase this test over the phone. Call Better2Know today and a member of our dedicated team will process your order. We also offer a comprehensive range of health tests and screens nationwide. Our Patient Services Executives are available 24/7 to answer your questions and process your bookings.
How it works
How It Works
Buying your home test kits online is simple:
1

Buy your test online.

2

Receive it in the post.

3

Provide a sample.

4

Free return postage to the lab.

5

Check your results securely online.
We provide a completely confidential and anonymous service. Please refer to our FAQs above, for more information. If you have any additional questions, please do not hesitate to contact us, using the phone number at the top of the page.
FAQs
Frequently Asked Questions
Q: When will you send my kit to me?
If your order is placed before 4pm on a working day, then it will be sent the same day. Otherwise it will be sent on the next working day.
Q: Why do you need my email address?
Your Patient Services Manager, Louise Wright, will email you your login details to access your results, a confirmation your kit has been dispatched and finally when all your results are ready. We do not sell on or email you any other marketing materials, that is why we do not ask you to opt in or out of anything.
Q: Do I need to use my real name?
No, but the postman does need to know where to deliver the kit to. As long as you use a name that will get the kit to you, then we do not need your real name.
Q: What does the kit packaging look like?
It will arrive in plain white envelope with your typed name and address on it.
Q: What if I have any more questions?
You can email Louise by replying to one of the emails she has sent to you. She will do her best to answer them.