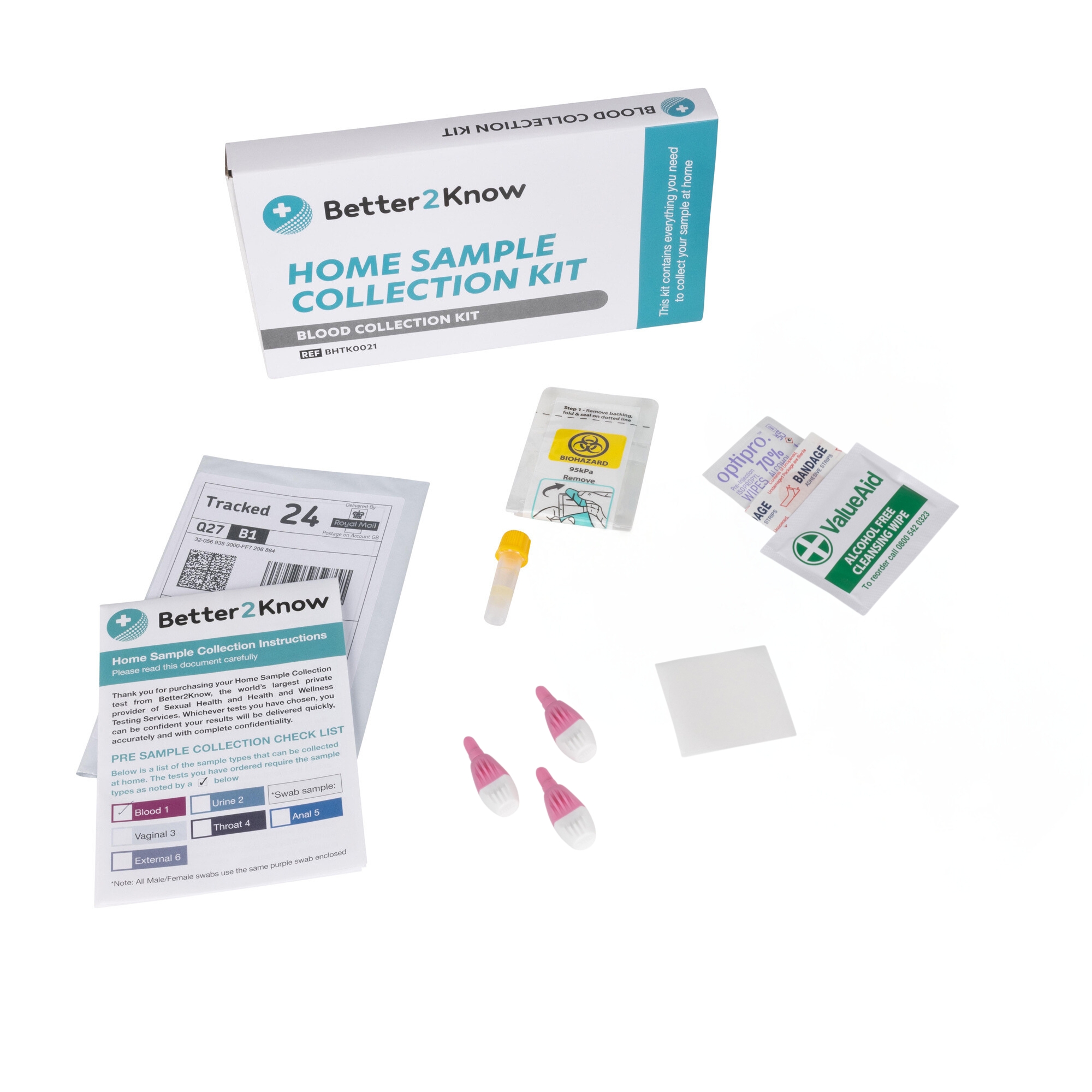 Product Description
How it works
FAQs
Product Description
Better2Know Terms & Conditions
What is Hepatitis B?
Hepatitis B is a serious infection of the liver caused by a virus, known as the Hepatitis B Virus (HBV), which is spread by exposure to the virus by direct contact with infected blood, saliva, semen or vaginal fluids. Certain treatments can help manage the condition, but currently there is no known cure. However, it is usually preventable through a course of Hepatitis B vaccinations.
Why consider a Hepatitis B immunity test?
If your work involves needles or close contact with blood or bodily fluids from other people, such as medical professionals, laboratory technicians, food service workers or sex workers, then you should consider a regular Hepatitis B immunity test to determine your level of immunity against Hepatitis B. This test is also important for anyone who has had a course of Hepatitis B vaccinations or a recent booster injection.
The Better2Know Hepatitis B immunity test should be done at least 4 weeks after completing a course of injections or a booster. It does not test whether you have a current infection. Click on the following link if you would like to book a Hepatitis B test
Common symptoms of a Hepatitis B infection can include:
Yellow colouring of the skin and eyes
Loss of appetite
Nausea
Extreme fatigue
Joint pain
Abdominal pain
Itching all over the body
How does the Hepatitis B immunity test work?
This test involves using a blood sample to detect your level of Hepatitis B immunity. Your test kit will include everything that is needed for your sample to be successfully collected. You can then send the sample to our accredited laboratory by using the pre-paid envelope included in your test kit and you will receive your results within two working days.
When will my test kit arrive?
If you order your Hepatitis B immunity test before 4pm Monday-Friday, Better2Know will send your test kit out the same day via first class post. You should receive your kit the following working day.
How will I receive my test results?
Better2Know will provide you with confidential login information, which will enable you to access our secure patient platform. You can access your results online by logging into your secure patient area on our website at any time. A member of our Patient Services team will contact you when all your results are ready.
What should I do with my results?
Better2Know can help you arrange a follow-up consultation with a private doctor in your local area for you to discuss your results further or you can meet with a GP. A doctor will be able to advise you if treatment is needed or be able to arrange additional testing.
How can I order my test?
Select the 'Add to Basket' button and continue to the checkout to order your test online. Better2Know can also process your order over the phone if you prefer, just call the number above. If you have any additional questions do not hesitate to get in touch, our team is happy to assist you in any way.
Quick Facts
Test: Hepatitis B Immunity test
Condition: Hepatitis B
Samples: Blood
Accuracy: 99.9%
Test Kit: Finger prick test
Results Turnaround time: Within 2 days
Price: £49
How it works
How It Works
Buying your home test kits online is simple:
1

Buy your test online.

2

Receive it in the post.

3

Provide a sample.

4

Free return postage to the lab.

5

Check your results securely online.
We provide a completely confidential and anonymous service. Please refer to our FAQs above, for more information. If you have any additional questions, please do not hesitate to contact us, using the phone number at the top of the page.
FAQs
Frequently Asked Questions
Q: When will you send my kit to me?
If your order is placed before 4pm on a working day, then it will be sent the same day. Otherwise it will be sent on the next working day.
Q: Why do you need my email address?
Your Patient Services Manager, Louise Wright, will email you your login details to access your results, a confirmation your kit has been dispatched and finally when all your results are ready. We do not sell on or email you any other marketing materials, that is why we do not ask you to opt in or out of anything.
Q: Do I need to use my real name?
No, but the postman does need to know where to deliver the kit to. As long as you use a name that will get the kit to you, then we do not need your real name.
Q: What does the kit packaging look like?
It will arrive in plain white envelope with your typed name and address on it.
Q: What if I have any more questions?
You can email Louise by replying to one of the emails she has sent to you. She will do her best to answer them.