HIV 5th Generation Test
« View All Products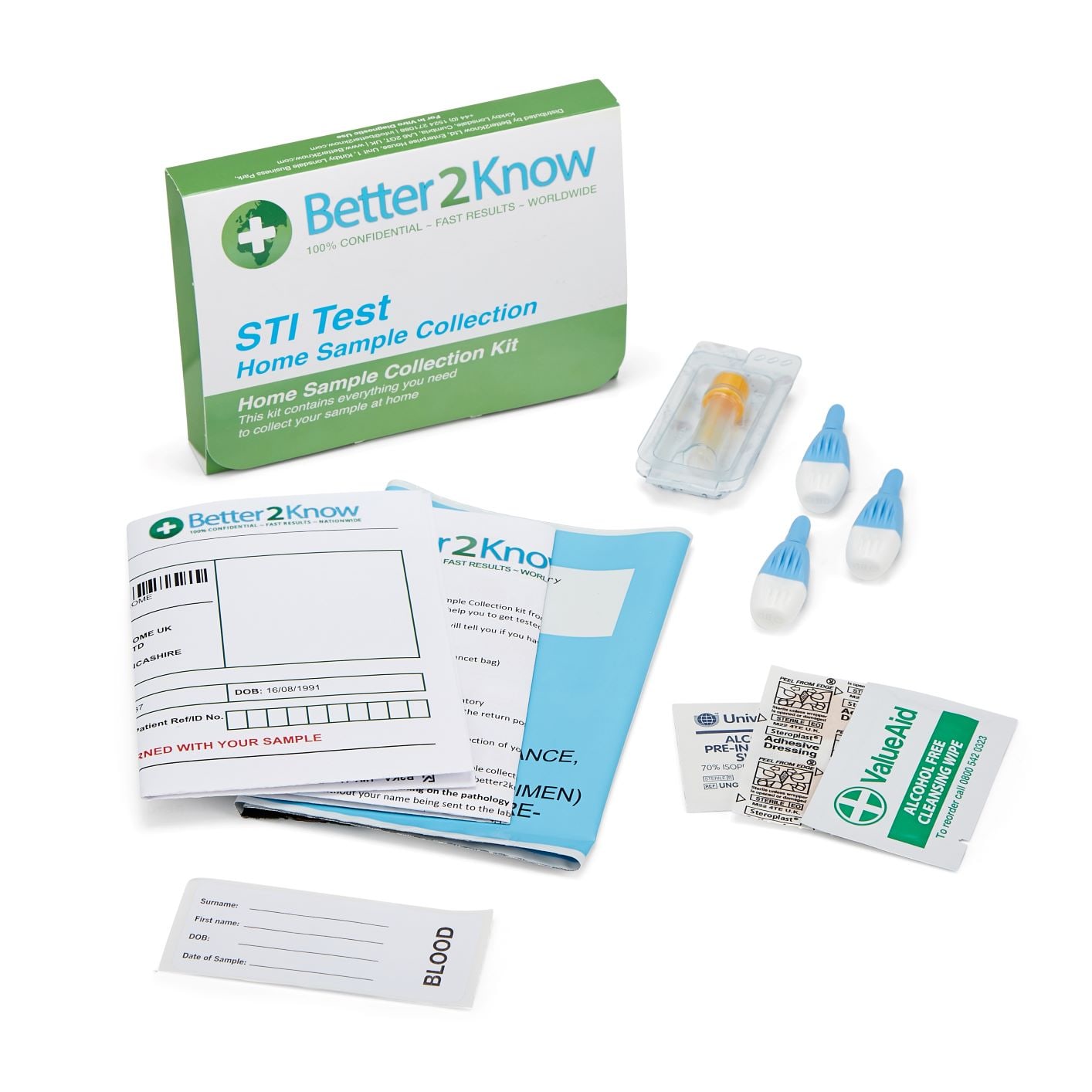 Product Description
How it works
FAQs
Product Description
Better2Know Terms & Conditions
How does HIV 5th Generation home testing work?
The HIV 5th Generation test is the most up to date HIV test available. It reports separately on the HIV 1 and HIV 2 antibodies and the p24 antigen. This means that if you do test positive, you have an earlier indication as to which viral type you have (HIV 1 and HIV 2 are different strains of the HIV virus, and so they respond differently to different medication). The test can also tell you whether you have an acute (usually less than 3 months old if you test positive for the p24 antigen) or established (if you test positive for the antibodies) infection. This can help you when contacting previous partners.
Please choose the HIV 5th generation test from the panel on the right. We will post your discreet test kit to your home or chosen address, and email you your login instructions. The postal packaging is plain so no one will know what it is. The kit contains everything you need to take your blood sample and we will also email you a detailed step-by-step instruction leaflet to help you.
Simply post your sample back in the prepaid packaging provided. We will notify you by email as soon as the results are ready. You can then log in to check your results.
If you place your order before 4pm Monday to Friday, we will post it to you on the same day, first class. Orders received after 4pm, on weekends or bank holidays, will be sent out on the next working day.
If you are not sure which STI you may have, are worried you may have more than one, or you are concerned about a risky encounter, we suggest you choose our Full STI Screen which tests for a range of sexually transmitted diseases.
When will my test kit arrive?
Your test kit will normally arrive the next working day. This may vary depending on where you live.
How long before I get my results?
The results of your HIV test will normally be ready one working day from the arrival of your sample at our laboratory.
What happens if my result is positive?
Do not worry, with early identification and appropriate treatment HIV is no longer considered a life threatening virus.
Better2Know are here to help you. We will ask you whether you would like to come for repeat testing at one of our clinics. We will also provide you with access to assistance and counselling. You can choose whether to continue your treatment privately or with your own doctor.
You should test for HIV regularly so that, if you do test positive, you can start your treatment early, and prevent spreading the virus to anyone else. This gives you the best chance of successfully managing your condition. Many people do not start taking medication straight away, but you should begin to monitor your body for the effects of the virus.
Better2Know works with the Terrence Higgins Trust (THT) to help you get the support and advice you need on this life changing virus. Your Better2Know doctor will refer you to appropriate specialists and the THT in the first instance. THT are there to support you. They will help you work out whom you need to talk to about your HIV status and they have over 30 years of experience in giving advice. THT have helped thousands of newly diagnosed people and are experts in this area. They also have a dedicated website: myhiv.org.uk for the HIV positive community to share their thoughts and feelings. The THT will also help you seek medical support and answer your questions about what this means to you and your future relationships. You can also email THT Direct on info@tht.org.uk.
There are also apps and websites available to help you manage and monitor you condition so that you can take control of the virus and maintain your health and lifestyle.
Is Better2Know testing confidential?
Yes, your results and your details are completely confidential. We will not inform your doctor or anyone else without your permission.
How long should I wait after sex before getting an HIV test?
You should wait at least 28 days since a risky encounter before collecting your blood sample for our 5th generation test.
How it works
How It Works
Buying your home test kits online is simple:
1

Buy your test online.

2

Receive it in the post.

3

Provide a sample.

4

Free return postage to the lab.

5

Check your results securely online.
We provide a completely confidential and anonymous service. Please refer to our FAQs above, for more information. If you have any additional questions, please do not hesitate to contact us, using the phone number at the top of the page.
FAQs
Frequently Asked Questions
Q: When will you send my kit to me?
If your order is placed before 4pm on a working day, then it will be sent the same day. Otherwise it will be sent on the next working day.
Q: Why do you need my email address?
Your Patient Services Manager, Louise Wright, will email you your login details to access your results, a confirmation your kit has been dispatched and finally when all your results are ready. We do not sell on or email you any other marketing materials, that is why we do not ask you to opt in or out of anything.
Q: Do I need to use my real name?
No, but the postman does need to know where to deliver the kit to. As long as you use a name that will get the kit to you, then we do not need your real name.
Q: What does the kit packaging look like?
It will arrive in plain white envelope with your typed name and address on it.
Q: What if I have any more questions?
You can email Louise by replying to one of the emails she has sent to you. She will do her best to answer them.