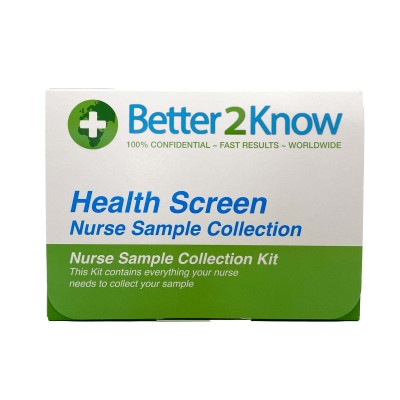 Product Description
How it works
FAQs
Product Description
Better2Know Terms & Conditions
What is an HRT profile home test?
Hormone Replacement Therapy (HRT) means the replacement of any hormone that is missing in the body. In this case, HRT refers specifically to the replacement of hormones in women, which are no longer produced during the perimenopausal (leading up to the menopause) period or after the menopause (last period) itself. If you are taking HRT medication, then the levels of these hormones will be restored and symptoms such as hot flushes, night sweats, vaginal dryness, sleep disturbance, low mood, irritability and low sex drive should be alleviated. This HRT profile will check that your hormones are optimally balanced whilst taking your HRT medication.
This test kit needs a professional to collect your blood sample for you.
Why should I consider the HRT profile home test?
If you are taking HRT and have any symptoms that indicate your hormones may not be optimal as listed above, then the Better2Know HRT profile home test will quickly give you an oversight.
What is the Better2Know home testing process?
Your HRT profile home testing kit will be packaged discreetly to maintain your patient confidentiality. It will consist of everything your clinician needs to collect your blood sample. Please use the free envelope provided to send your sample to one of our fully certified laboratories in the UK.
When will my home testing kit arrive?
Better2Know will dispatch your home testing kit in the first class post. If you order your kit before 4 pm, Monday to Friday, we will send your parcel on the very same day that we receive your order. If you would prefer a tracked and signed for package, please choose special delivery at checkout.
How will I receive my test results?
The results of your HRT profile home test will be ready within one working day following the arrival of your sample at our laboratory. Your confidential results will be reported on Better2Know 's secure patient area as soon as they are available. To view them at any time, simply use the log in details provided by our advisors once we have processed your purchase. One of our experienced advisors will also contact you personally when all your results are ready.
What should I do with my results?
Your results will determine whether the levels of FSH, oestradiol 17-beta and progesterone in your body are in optimal balance to alleviate your menopausal symptoms. If your result shows an abnormal balance of hormones, then you should consult a doctor to discuss the results and maybe change the type of HRT you are taking. Better2Know has skilled doctors situated across the UK. Your friendly advisor can arrange a private consultation for you to discuss your results in more detail and receive guidance on treatment options.
How can I order my home test?
To order your Better2Know home test now, select the blue, 'Add to Basket' button above and proceed to the payment page. Our trained Patient Services team will answer your additional questions and process your order. You can call them using the number displayed at the top of the page. They are available 24/7 for your convenience.
How it works
How It Works
Buying your home test kits online is simple:
1

Buy your test online.

2

Receive it in the post.

3

Provide a sample.

4

Free return postage to the lab.

5

Check your results securely online.
We provide a completely confidential and anonymous service. Please refer to our FAQs above, for more information. If you have any additional questions, please do not hesitate to contact us, using the phone number at the top of the page.
FAQs
Frequently Asked Questions
Q: When will you send my kit to me?
If your order is placed before 4pm on a working day, then it will be sent the same day. Otherwise it will be sent on the next working day.
Q: Why do you need my email address?
Your Patient Services Manager, Louise Wright, will email you your login details to access your results, a confirmation your kit has been dispatched and finally when all your results are ready. We do not sell on or email you any other marketing materials, that is why we do not ask you to opt in or out of anything.
Q: Do I need to use my real name?
No, but the postman does need to know where to deliver the kit to. As long as you use a name that will get the kit to you, then we do not need your real name.
Q: What does the kit packaging look like?
It will arrive in plain white envelope with your typed name and address on it.
Q: What if I have any more questions?
You can email Louise by replying to one of the emails she has sent to you. She will do her best to answer them.