Pregnancy Test
« View All Products
Product Description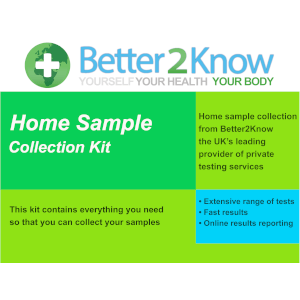 Why should I consider a pregnancy test?
Whether your pregnancy is planned or unplanned, Better2Know Your Body is here to help. Our popular home testing option is confidential and highly accurate, with sample analysis performed in a fully certified, UK laboratory.
It is advisable to take this test following the first day of a missed period. If you are uncertain when your next period is due, consider taking the test at least 21 days (three weeks) after your unprotected sexual encounter.
We also offer specialised counselling if your result is not the result you were hoping for.
What is the Better2Know Your Body home testing process?
Better2Know Your Body's home testing brings the accuracy and professionalism of our private clinic service to the comfort of your own home. Inside your kit will find a urine collection pot, a pathology form, and a prepaid envelope to return your sample. You will also be emailed with more detailed sample collection instructions. Once you have taken your sample, pop it in the post and our CPA accredited laboratory will analyse your test swiftly and efficiently.
When will my home testing kit arrive?
If you order the Better2Know Your Body home pregnancy test before 4pm between Monday and Friday, your kit will be posted via first class mail that same afternoon.
How will I receive my test results?
The results of your pregnancy test will be ready to report within one working day of your sample's arrival at our laboratory. Once your results are available you will be contacted by a member of our expert patient health advisory team inviting you to log on to get your results. With Better2Know Your Body, you can also monitor the progress of your results online via the secure patient log in area of our website.
What should I do with my results?
If you are pregnant and happy, please contact your doctor or midwife to begin your antenatal care following your results.
With any other results , we are here to help you. This can range from advice and testing on getting pregnant, or counselling on the choices available to you. Better2Know Your Body has a network of private doctors and counsellors in the UK. We provide telephone or face-to-face consultations either before your home test or after you receive your results.
How can I order my home test?
You can purchase your home pregnancy test now by selecting the 'Add to Basket' button above and proceeding to our secure, online checkout. You can also buy this test over the phone. Call Better2Know Your Body today and a member of our dedicated team will answer your questions and process your order. We also offer a comprehensive range of health tests and screens across the UK. Our Patient Services Executives are available 24/7 for your assurance and convenience.
FAQs
Frequently Asked Questions
When is my order dispatched?
All orders placed before 4.00pm are dispatched the same day in the first class post.
How much is delivery?
First class postage is free for all products.