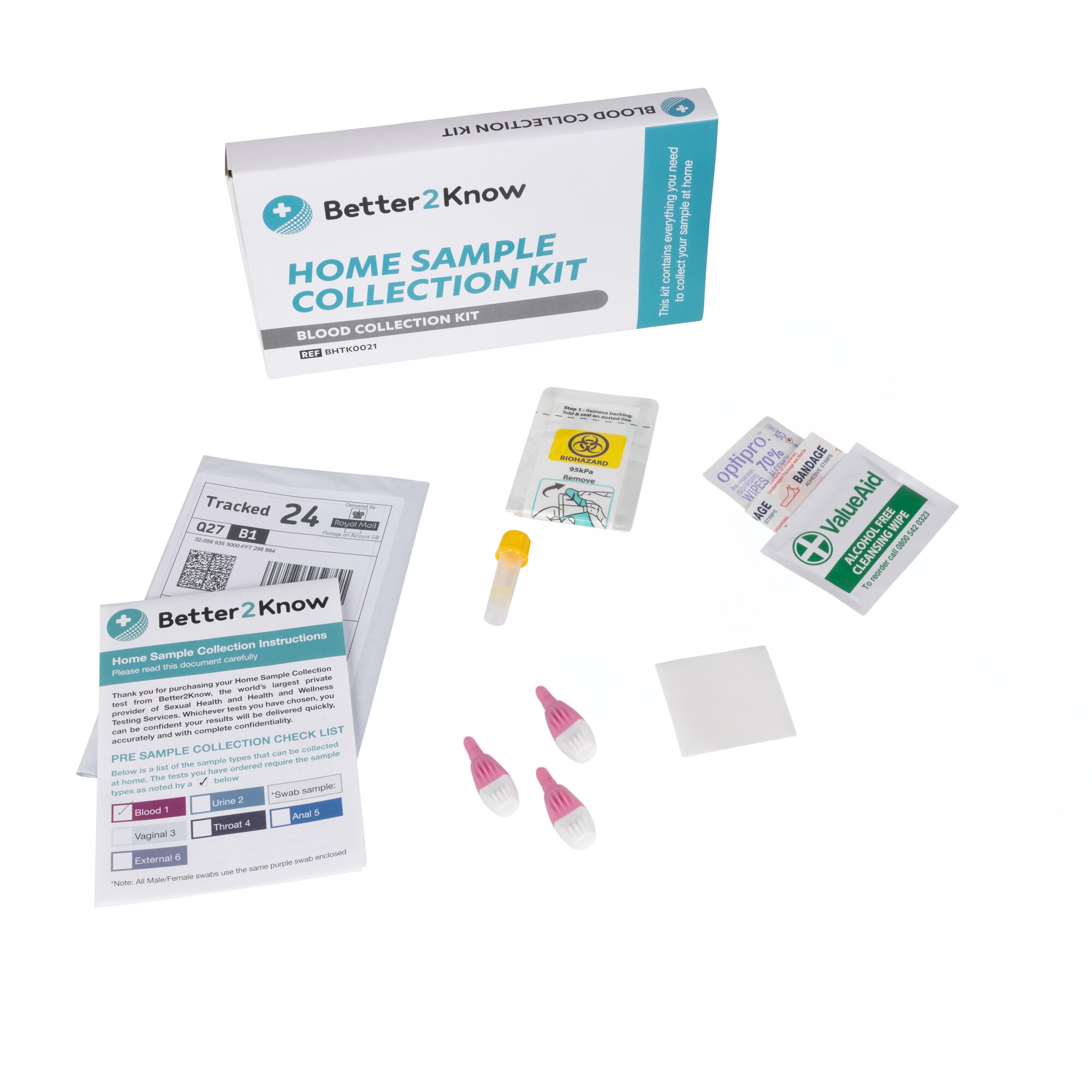 Product Description
How it works
FAQs
Product Description
Better2Know Terms & Conditions
What is a Prostate Screen?
The Better2Know Prostate Screen can help to detect prostate cancer. The test measures the total level of prostate-specific antigen (PSA). This is a protein, made only by the prostate gland, which can be produced by normal and cancerous prostate cells. Most men will have a small amount of PSA in their blood. A heightened level may indicate an issue with your prostate.
Why consider a Prostate Screen?
This screen is suitable if you have experienced any of the following symptoms:
Needing to urinate more frequently, often during the night
Needing to rush to the toilet
Difficulty in starting to urinate
Straining or taking a long time while urinating
Weak urine flow
Feeling that your bladder has not emptied fully
Blood in urine
Blood in semen
Having one or more of these symptoms does not mean that you have prostate cancer. However, it is important to check your prostate health if you are concerned.
Many men experience an increase in the size of the prostate as they get older because of a non-cancerous condition called prostate enlargement. Signs that cancer may have spread include bone and back pain, a loss of appetite, pain in the testicles, and unexplained weight loss.
How does this test work?
This screen requires a small blood sample. Once you have collected your blood sample, simply place it in the envelope provided and send it to our accredited UK laboratory for analysis.
What tests will be run on my sample?
Our Prostate Screen will measure:
Total Prostate-Specific Antigen (PSA). This test measures the total amount of the PSA in your body, including both the antigens that are bound and those that are floating freely.
When will my test kit arrive?
If you order your Prostate Screen before 4pm, Monday to Friday, Better2Know will send your kit to you by first class post on the same day. Your test kit should arrive the next working day, or the day after, depending on where you are located. You can also choose special delivery at checkout for a signed and tracked service.
How will I receive my results?
The confidential results of your Prostate Screen will be available within one working day after your sample has been received at the laboratory. As soon as your results are ready, you can view them in your secure patient area on the Better2Know website. A member of our Patient Services team will advise you when all of your results are available.
What should I do with my results?
If your test reveals abnormal PSA levels, you should see a doctor about the results. Better2Know can arrange private consultations nationwide, with a network of highly skilled doctors based across the UK. You can also take your results to your own GP if you prefer.
How can I order my test?
To order your Prostate Screen online now, select the 'Add to Basket' button and follow the steps. Alternatively, you can speak to an advisor by calling the number at the top of the page. A member of our Patient Services team will answer any questions you may have and process your order.
Better2Know provides a wide range of health tests and screens throughout the UK. Our welcoming and experienced team is available 24/7 for your convenience.
How it works
How It Works
Buying your home test kits online is simple:
1

Buy your test online.

2

Receive it in the post.

3

Provide a sample.

4

Free return postage to the lab.

5

Check your results securely online.
We provide a completely confidential and anonymous service. Please refer to our FAQs above, for more information. If you have any additional questions, please do not hesitate to contact us, using the phone number at the top of the page.
FAQs
Frequently Asked Questions
Q: When will you send my kit to me?
If your order is placed before 4pm on a working day, then it will be sent the same day. Otherwise it will be sent on the next working day.
Q: Why do you need my email address?
Your Patient Services Manager, Louise Wright, will email you your login details to access your results, a confirmation your kit has been dispatched and finally when all your results are ready. We do not sell on or email you any other marketing materials, that is why we do not ask you to opt in or out of anything.
Q: Do I need to use my real name?
No, but the postman does need to know where to deliver the kit to. As long as you use a name that will get the kit to you, then we do not need your real name.
Q: What does the kit packaging look like?
It will arrive in plain white envelope with your typed name and address on it.
Q: What if I have any more questions?
You can email Louise by replying to one of the emails she has sent to you. She will do her best to answer them.