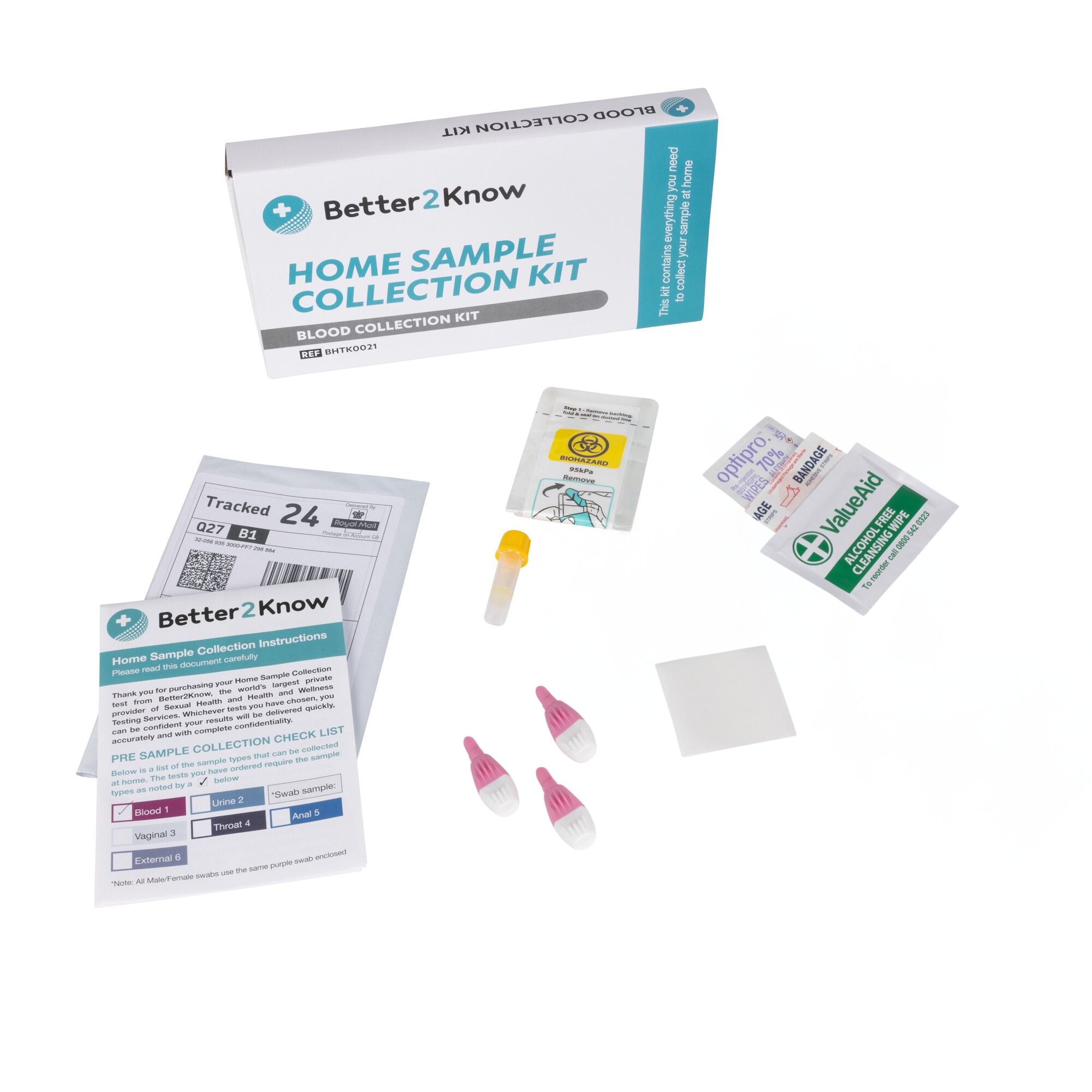 Product Description
How it works
FAQs
Product Description
Better2Know Terms & Conditions
What is SHBG?
SHBG (Sex Hormone-Binding Globulin) is a type of protein produced mainly by the liver and released into the bloodstream. The primary role of SHBG is to bind to the Sex Hormones Testosterone and Oestrogen and transport them in the blood in an inactive form. Testosterone and Oestrogen can be found in both men and women, but at different levels. For example, in men, about 45% of testosterone is tightly bound to SHGB and in women about 70%. These gender differences in binding of SHBG and other proteins to the sex hormones in the bloodstream accounts for male and female characteristics.
Slight changes from normal levels of SHBG and therefore Sex Hormones can cause certain symptoms. In adult men, it is usually decreased testosterone that causes symptoms and SHBG levels can be used to discover the reason for a decrease in libido (sex drive) and erectile dysfunction. In women, even slight increases in testosterone can cause symptoms such as amenorrhoea (the absence of monthly periods), infertility, acne and hirsutism (increased hairiness).
Why should I consider a SHBG test?
If you are a woman or man worried about any of the symptoms above, then a SHBG home test could be a good choice to find out whether an increase or decrease in testosterone is the reason for this.
What is the Better2Know Your Body home testing process?
Better2Know Your Body's home test kit will detect the levels of SHBG from a small, self-collected blood sample. Your discreetly packaged home testing kit will include a small, purple-topped tube for blood collection, a pathology form, three finger prick lancets, wipes and a postage-paid envelope. We will also email you with clear, detailed instructions on how to safely and correctly take your sample. Once you have your blood sample, simply place it into the prepaid envelope provided and send it to our accredited laboratory for fast and efficient analysis.
When will my home testing kit arrive?
If you order your home test before 4pm on Monday to Friday, it will be sent out on the same day in the first class mail.
How will I receive my test results?
Your home test results will be ready within one working day of your blood sample arriving at our laboratory. Results are extremely accurate and 100% confidential. As soon as your results become available, a member of the Better2Know Your Body health advisory team will contact you to invite you to logon to our secure patients' results area. You can also access your results at any time.
What should I do with my results?
This Better2Know Your Body home test will help you understand the levels of SHBG in your blood and what action to take next. Better2Know Your Body has a network of qualified doctors around the UK and can arrange a private consultation either before your test or after your results are available.
How can I order my home test?
You can buy this test now by selecting the 'Add to Basket' button above. You can also purchase this test over the phone. Call Better2Know Your Body on the number above and a member of our dedicated team will process your order. We also offer a comprehensive range of health tests and screens nationwide. Our Patient Services Executives are available 24/7 to answer your questions and process your bookings.
How it works
How It Works
Buying your home test kits online is simple:
1

Buy your test online.

2

Receive it in the post.

3

Provide a sample.

4

Free return postage to the lab.

5

Check your results securely online.
We provide a completely confidential and anonymous service. Please refer to our FAQs above, for more information. If you have any additional questions, please do not hesitate to contact us, using the phone number at the top of the page.
FAQs
Frequently Asked Questions
Q: When will you send my kit to me?
If your order is placed before 4pm on a working day, then it will be sent the same day. Otherwise it will be sent on the next working day.
Q: Why do you need my email address?
Your Patient Services Manager, Louise Wright, will email you your login details to access your results, a confirmation your kit has been dispatched and finally when all your results are ready. We do not sell on or email you any other marketing materials, that is why we do not ask you to opt in or out of anything.
Q: Do I need to use my real name?
No, but the postman does need to know where to deliver the kit to. As long as you use a name that will get the kit to you, then we do not need your real name.
Q: What does the kit packaging look like?
It will arrive in plain white envelope with your typed name and address on it.
Q: What if I have any more questions?
You can email Louise by replying to one of the emails she has sent to you. She will do her best to answer them.