Thyroid Profile Test
« View All Products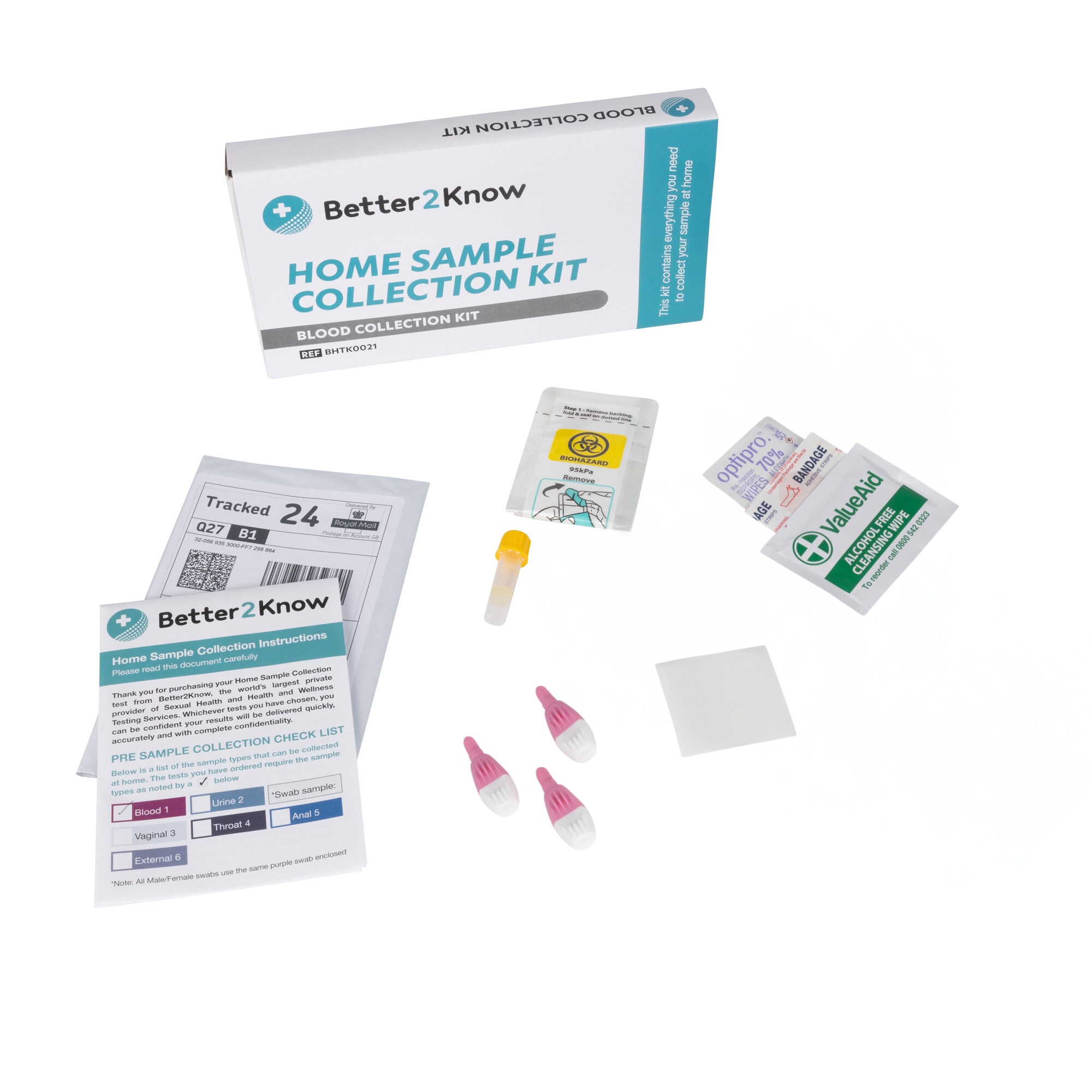 Product Description
How it works
FAQs
Product Description
Better2Know Terms & Conditions
What is a thyroid profile?
The thyroid is a small gland in the neck that produces two hormones that are secreted into the blood, thyroxine (T4) and triiodothyronine (T3). These two hormones regulate the speed of metabolism in the cells of the body. T3 is the biologically active agent and as well as being excreted directly from the thyroid, is also made from the conversion of T4 in the cells of the body.
The regulation of T3 and T4 production is controlled by Thyroid Stimulating Hormone (TSH) produced in the pituitary gland found in the brain behind the bridge of the nose.
Thyroid disorders are very common and tend mainly to occur in women, although anybody can be affected. About one in 20 people has a thyroid disorder, which can be temporary or permanent.
Hypothyroidism is caused when the body does not produce enough of the thyroid hormones. This causes the metabolism to slow down causing symptoms such as tiredness, feeling cold, weight gain, poor concentration, depression, slow heart rate and constipation.
While occurring less frequently, hyperthyroidism is caused by too much thyroxine being produced increasing the activity your body's cells. Symptoms can include weight loss, heat intolerance, anxiety, rapid heart rate, diarrhoea and sometimes, sore and gritty eyes.
The Better2Know Your Body Thyroid Profile Test will measure the level of T4 and TSH within your blood.
Why should I consider this thyroid profile?
The Better2Know Your Body Thyroid Profile will test how well your thyroid gland is functioning. This popular testing option brings the accuracy and efficiency of our clinic services to the comfort and privacy of your own home. So, if you have experienced any of the symptoms above or have concerns about how your thyroid gland is working, you should consider this profile.
What is the Better2Know Your Body home testing process?
The Thyroid Profile Test uses a single blood sample to test for free T4 and TSH. The blood sample is collected using a finger prick lancet and will measure how well your thyroid gland is working. Your home testing kit will contain a gold topped collection tube, three lancets, a pathology form, wipes and a postage paid envelope to return your sample. Our team will also email you with instructions on how to safely and correctly collect your sample. It is important that you follow these instructions carefully. Once you have completed your home test, place your sample in the envelope provided and send it to our accredited UK laboratory for analysis.
When will my home testing kit arrive?
If you place your order on a weekday, before 4pm, your kit will be dispatched that same day via first class post.
How will I receive my test results?
The confidential results of your Thyroid Profile Test will be ready to report just one working day after your sample has arrived at our certified laboratory. You can access your results online by logging into the secure patient area of our website at any time and a member of our Patient Services team will also contact you when all your results are ready.
What should I do with my results?
If your test reveals an overactive or underactive thyroid gland, you should see a doctor about the results. Medication can be prescribed to regulate your thyroid activity and further testing may be recommended to ensure the success of the treatment. At Better2Know Your Body, we can arrange private consultations nationwide, with a network of skilled doctors based across the country. You can also take your results to your own GP if you prefer.
How can I order my home test?
You can order your Thyroid Profile Test now by selecting the 'Add to Basket' button at the top of the page. To speak to an advisor and buy this test over the phone, just call Better2Know Your Body on the number above. A member of our dedicated Patient Services team will answer your questions and process your order. We also provide a wide range of health tests and screens throughout the UK. Our welcoming and experienced staff are available 24/7 for your convenience.
How it works
How It Works
Buying your home test kits online is simple:
1

Buy your test online.

2

Receive it in the post.

3

Provide a sample.

4

Free return postage to the lab.

5

Check your results securely online.
We provide a completely confidential and anonymous service. Please refer to our FAQs above, for more information. If you have any additional questions, please do not hesitate to contact us, using the phone number at the top of the page.
FAQs
Frequently Asked Questions
Q: When will you send my kit to me?
If your order is placed before 4pm on a working day, then it will be sent the same day. Otherwise it will be sent on the next working day.
Q: Why do you need my email address?
Your Patient Services Manager, Louise Wright, will email you your login details to access your results, a confirmation your kit has been dispatched and finally when all your results are ready. We do not sell on or email you any other marketing materials, that is why we do not ask you to opt in or out of anything.
Q: Do I need to use my real name?
No, but the postman does need to know where to deliver the kit to. As long as you use a name that will get the kit to you, then we do not need your real name.
Q: What does the kit packaging look like?
It will arrive in plain white envelope with your typed name and address on it.
Q: What if I have any more questions?
You can email Louise by replying to one of the emails she has sent to you. She will do her best to answer them.