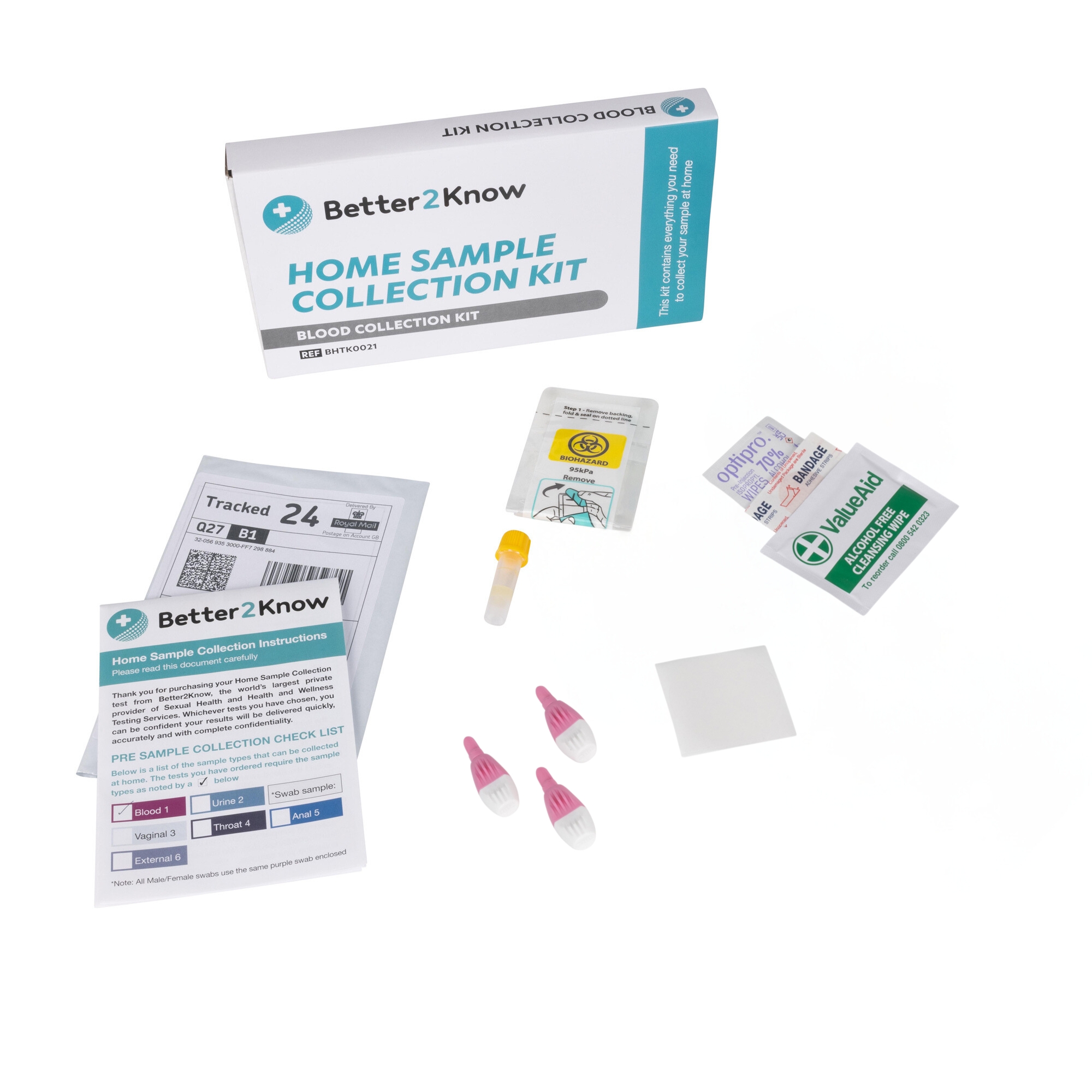 Product Description
How it works
FAQs
Product Description
Better2Know Terms & Conditions
What is an Iron Test?
The Better2Know Iron Test provides a complete overview of your iron status. Iron is an essential nutrient that the body requires in small amounts to help make red blood cells. The body cannot make iron, so all iron must be consumed from a healthy diet or from supplements.
Why consider an Iron Test?
A lack of dietary iron over a long period can lead to iron deficiency anaemia as the body's stores become depleted. There is an increased need for iron during pregnancy and childhood, and in situations whereby there is chronic blood loss such as stomach ulcers, colon cancer or women with heavy periods. In conditions such as Coeliac Disease, the body is unable to absorb dietary iron which can also lead to iron deficiency anaemia.
Iron deficiency anaemia may not produce symptoms in the early stages, but typical symptoms that develop over time include:
Fatigue
Weakness
Dizziness
Heart palpitations
Headaches
Pale skin
If you have any of these symptoms, are pregnant, have heavy periods or think you have Coeliac Disease, our Iron test will confirm whether there are abnormalities in your iron levels.
While a less commonly occurring problem, iron overload (too much iron) can have serious health implications, particularly for children.
How does this test work?
This test requires a blood sample. Once you have collected your blood sample, post it to our certified laboratory using the postage-paid envelope.
What tests will be run on my sample?
Better2Know's Iron Test will evaluate the current store of iron in your system and will measure:
Iron. This test can determine whether you have too much or too little of the mineral in your system.
Total iron-binding capacity. This test measures the ability of the blood to attach to and transport iron around the body.
Ferritin. This test measures the amount of iron stored in the body used to diagnose anaemia or iron overload.
Transferrin saturation. This is the main protein that binds iron in the blood.
When will my test kit arrive?
Order your Better2Know Iron Test before 4 pm, Monday to Friday, and we will dispatch your kit by first class post on the very same day. You can also choose special delivery at checkout if you prefer a tracked and signed for option.
How will I receive my test results?
You will receive the results of your Iron Test within one working day of your sample's arrival at our laboratory. You can track the progress of your results at any time in your secure patient area. A member of our Patient Services team will contact you once your results are ready to view.
What should I do with my results?
If the results of your Iron Test reveal abnormal levels, you should seek medical advice. Better2Know can arrange a telephone or face-to-face consultation with a skilled doctor across the UK. Your Better2Know doctor can prescribe any medication you may require or recommend certain supplements or dietary modifications to help boost the levels of iron in your system. You can, alternatively, take your results to your GP if you prefer.
How can I order my test?
To order your Iron Test now, simply select the 'Add to Basket' button. To purchase this test over the phone, please call Better2Know on the number at the top of the page and a member of our dedicated Patient Services team will answer your questions and process your order.
Better2Know provides a wide range of health tests and screens throughout the UK. Our welcoming and experienced team are available 24/7 for your convenience.
How it works
How It Works
Buying your home test kits online is simple:
1

Buy your test online.

2

Receive it in the post.

3

Provide a sample.

4

Free return postage to the lab.

5

Check your results securely online.
We provide a completely confidential and anonymous service. Please refer to our FAQs above, for more information. If you have any additional questions, please do not hesitate to contact us, using the phone number at the top of the page.
FAQs
Frequently Asked Questions
Q: When will you send my kit to me?
If your order is placed before 4pm on a working day, then it will be sent the same day. Otherwise it will be sent on the next working day.
Q: Why do you need my email address?
Your Patient Services Manager, Louise Wright, will email you your login details to access your results, a confirmation your kit has been dispatched and finally when all your results are ready. We do not sell on or email you any other marketing materials, that is why we do not ask you to opt in or out of anything.
Q: Do I need to use my real name?
No, but the postman does need to know where to deliver the kit to. As long as you use a name that will get the kit to you, then we do not need your real name.
Q: What does the kit packaging look like?
It will arrive in plain white envelope with your typed name and address on it.
Q: What if I have any more questions?
You can email Louise by replying to one of the emails she has sent to you. She will do her best to answer them.