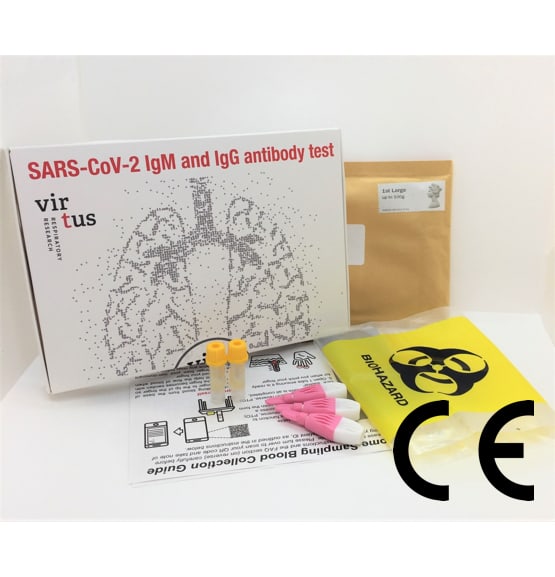 Product Description
How it works
FAQs
Product Description
Better2Know Terms & Conditions
This new, advanced antibody test has been developed through leading-edge research by a British company. Lead scientist, Professor Sebastian L Johnston, has been researching respiratory viruses for more than 30 years at Imperial College London. This is a quantitative IgG and IgM test, which means it will provide a numerical value indicating the level of Covid-19 specific antibodies in your body.
This innovative finger-prick test will determine the strength of your antibody response to the virus and your susceptibility to future infection. The advanced nature of this test also means that, if you decide to test again in the future, it is possible to monitor any changes in your antibody level over time.
This test is ideal for monitoring your antibody levels after having the Covid-19 vaccination. It is unique in that it tests for the same virus protein as is in the vaccines. This means that this test can detect an antibody response produced by the vaccine, while other antibody tests cannot.
Inside your sealed testing kit, you will find:
Two gold-topped blood collection tubes
A transparent bio-hazard bag
3 Lancets to prick your finger
Pre-lancet wipe and plaster
Full set of instructions
Pre-paid envelope to return your sample to the lab.
Both the test and the contents of this kit are CE marked.
---
What is the advantage of a quantitative test?
This antibody test will provide a numerical result, which will indicate the strength of your antibody response to Covid-19. Your result will be specified on a scale of zero to three and will indicate whether your level of antibodies is low, medium, high, very high, or negative (i.e. you do not have levels of antibodies that can be detected by this test). In turn, this will determine whether you have had a weak, medium, strong, or very strong antibody immune response to the virus or the vaccine.
How accurate is this test?
This quantitative test is up to 20% more accurate than other antibody tests. In more severe cases of Covid-19, this test has a sensitivity of 100% and a specificity of 100%. In less severe cases, this test has a sensitivity of 86.9% and a specificity of 98.4%. This test can detect antibodies produced in asymptomatic cases of Covid-19.
What is the advantage of testing for IgG and IgM antibodies?
The body's response to a Covid-19 infection varies significantly from person to person. This test will measure the level of two antibody types – IgG and IgM. This means that the test is useful to an additional number of people who may have IgM antibodies but have not yet developed detectable levels of IgG antibodies. You will receive separate results for IgG antibodies and IgM antibodies.
What will my results tell me?
A positive antibody result has been shown to protect against Covid-19 for at least six months. Therefore, by taking this test, you can find out whether you have short-term future immunity to Covid-19.
Who is this Covid-19 antibody test suitable for?
The test will detect antibodies produced in response to Covid-19, both in symptomatic and asymptomatic cases. Therefore, this advanced test is suitable for anyone looking to find out the strength of their antibody response to previous infection, or after having the vaccine.
Since this test provides a numerical value specifying the level of antibodies in your blood, this gives a baseline for any future antibody testing you may have. The results provide more detailed information than other antibody tests currently available in the UK.
What other advantages does this test have?
This test is the only antibody test currently available in the UK that has been validated by its manufacturer in community cases of Covid-19. Of the 107 Covid-19 cases tested in developing this test, only one had been hospitalised. Many of the 107 cases were mild and several were asymptomatic.
It is also the only antibody test currently available in the UK that has been validated by its manufacturer against a neutralising antibody test (this test shows that bloods in which antibodies are detected are able to stop a live virus from entering and infecting cells). So, if you have a high level of antibody in this test, you will also have a high level of neutralising activity.
Who is the combined test and certificate option for?
If you are travelling abroad and require proof of a negative IgM antibody test, we can provide you with a certificate detailing your IgG and IgM results separately. For example, an IgM antibody test and PCR swab test are both required when travelling to China, along with certificates. To select our combined test and certificate, click Buy Now and choose the 'Fit to Fly' option. You can also order your PCR swab test from Better2Know.
Why test for Covid-19 with Better2Know?
Highly accurate results. This test will provide you with accurate results for your peace of mind.
Quick turnaround time. You will receive your results within two working days of your sample's arrival at the laboratory.
Confidentiality. Your results and personal data will always be dealt with in complete privacy.
Accredited laboratories. All tests are performed at the highest clinical standards in UK laboratories.
World class patient support. Our friendly and experienced Patient Services team are available to assist you 24/7.
Order before 4pm Monday to Friday and your home test kit will be sent out to you on the same day.
Online results. Your results will be available to view in your secure Patient Area. We will email you as soon as your results are ready.
Follow-up call. If you test positive, you can speak to one of our highly trained advisors to discuss your result.
Live chat. Speak to our advisors discreetly using our online webchat.
Is this an approved coronavirus antibody test?
This test and the contents inside the kit are CE marked. This is a new antibody test, which has been validated using identical methodology as Public Health England (PHE) utilises to assess testing.
What should I do when I receive my kit?
When your kit arrives, please read the instructions carefully. You will also receive a set of instructions by email. Included in this email will be a link where you should fill in your details and the date of your sample collection. You should then take your finger-prick blood sample using the kit provided and send it to the laboratory using the pre-paid envelope on the same day.
How will I receive my results?
Your results will be ready within two working days of your sample's arrival at the laboratory. We will upload your results online in your secure Patient Area on our website, which you can access at any time using the log-in details provided to you at the time of booking. We will also send you an email once your results are ready to view.
How much does this coronavirus antibody test cost?
This Covid-19 IgG and IgM quantitative antibody test is available for £109.
How it works
How It Works
Buying your home test kits online is simple:
1

Buy your test online.

2

Receive it in the post.

3

Provide a sample.

4

Free return postage to the lab.

5

Check your results securely online.
We provide a completely confidential and anonymous service. Please refer to our FAQs above, for more information. If you have any additional questions, please do not hesitate to contact us, using the phone number at the top of the page.
FAQs
Frequently Asked Questions
Delivery
Q: When will my kit be posted to me?
If your order is placed before 4pm on a working day, it will normally be sent by first class post on the same day. Orders placed after 4pm will be sent the next working day, while orders placed over the weekend will be sent out on Monday.
Q: Can I add special delivery to my order?
Yes, tracked special delivery can be added to your order for £10. You will be able to track your delivery on the Royal Mail website.
Q: What does the kit packaging look like?
Your kit will arrive in a plain envelope with your typed name and address on it.
Q: Does the turnaround time include transit times for the kit to reach me and the sample to reach the laboratory?
No, the given turnaround time is the usual time our laboratory requires to analyse your sample and determine your result.
---
Confidentiality
Q: Why do you need my email address?
When you place your order, we will email your login details to access your results online. We will also send a confirmation email when your kit has been dispatched and notify you when your results are ready. We do not email any marketing materials or sell on your details to any third parties, hence why we do not ask you to opt-in or opt-out.
Q: Who will have access to my results?
Better2Know will never share your test results with anyone else, including your GP, without your permission. Your results and personal data are kept completely private and confidential.
---
Other
Q: What if I have any more questions?
You can reply to one of the emails sent to you by Louise from our Patient Services team. You can also contact our sexual health advisors by sending a message using our live chat facility or phoning our team who are available 24 hours a day, 7 days a week.
---