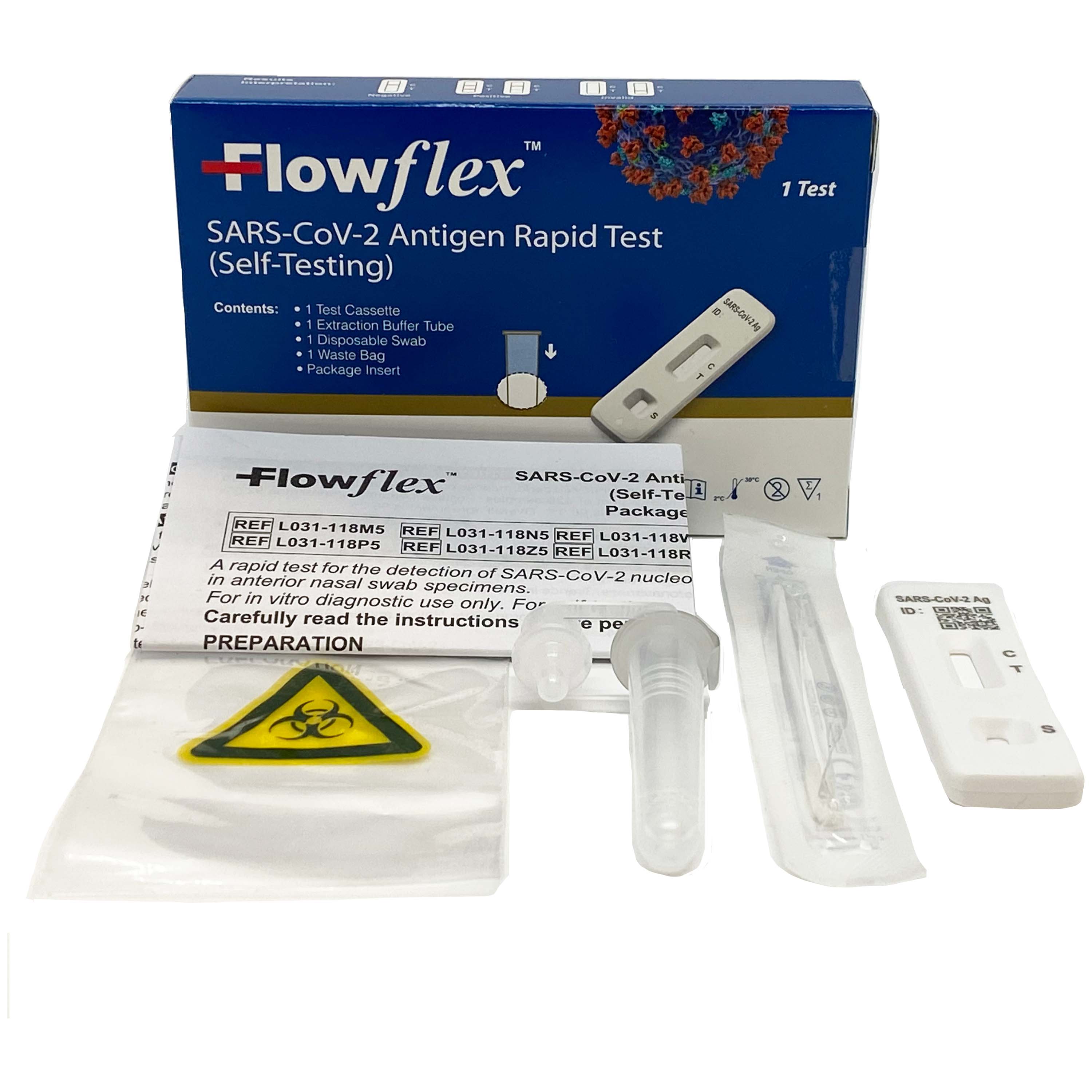 Product Description
How it works
FAQs
Product Description
Better2Know Terms & Conditions
Rapid Covid-19 Lateral Flow Antigen Self-Test Fit to Fly
This test can be used for:
General testing
Fit to Fly for entry into countries that accept a lateral flow test
Fit to Fly into the UK if you are not fully vaccinated
This test can be used as a fit to fly test before you travel from the UK to any overseas destination that accepts Covid-19 Lateral Flow test results as their entry requirement. Please check the specific entry rules of your destination country. Better2Know will issue a "Fit to Fly" certificate to you when you upload a photograph of your completed test result.
If you are not vaccinated and need to test before you board your plane for the UK, his test can be bought before you leave the UK. You can take it with you to be used overseas before your return to the UK. We will provide you with your certificate to allow you to meet the requirements to do a Covid test before you come back to the UK.
Rapid Covid-19 Lateral Flow test results are now accepted for travel and entry requirement purposes by many countries (including the UK) and airlines. If you are traveling to a country that accepts Rapid Covid-19 Lateral Flow testing, then this test is right for you. Please click here to buy this test for your Day 2 test if you are arriving into the UK.
Why choose Better2Know?
Better2Know has been providing home testing kits to patients since 2012
This Rapid Covid-19 Lateral Flow test is CE marked and meets all regulatory requirements.
Your Rapid Covid-19 Lateral Flow test will be dispatched and delivered by First Class Royal Mail, or you can opt for tracked Special Delivery at check out. We ship 6 days a week
Patient Services Team available 24/7 by phone, email and live chat
To order your tests, please click the Buy Now button above and select your chosen testing option. The non-refundable test cannot be refunded once it has been purchased.
Current travel requirements for UK arrivals, UK departures and entry into foreign countries:
IThis test can be purchased before you leave the UK, and taken with you overseas. You perform the test overseas and send us your result. We will then send you your certificate to show at your overseas departure point.
Some countries and airlines will now accept a Rapid Covid-19 Lateral Flow test result for your flight departure and entry into your destination country and for your flight back to the United Kingdom. To buy this test please click Add to Basket above
Depending on your vaccination status, your airline and destination country may still require a pre-departure PCR Fit to Fly Test
Upon return to the United Kingdom, and if you are not fully vaccinated, please buy this test.
It is your responsibility to check with your airline and country of departure on the UK Government's website prior to booking your tests.
---
When will I receive my test kits?
Your Rapid Covid-19 Lateral Flow tests will be dispatched the same day you order, as long as we receive your order before 4 pm. Tests are posted first class five days a week. Please note that first-class post is not a tracked or guaranteed service. If you want a tracked next-day delivery service please choose the special delivery option at checkout.
What should I do when I receive my test kits?
Your Rapid Covid-19 Lateral Flow test kits and any other tests you have ordered all come with a full set of easy-to-follow instructions. Please read and follow the instructions carefully before collecting your samples. Your Rapid Covid-19 Lateral Flow test is very easy to use. Simply swab the inside of each nostril and then follow the directions enclosed with your kit. Your result will be ready in only 15 minutes. At that point, just place your test cassette along with your Passport or other suitable travel identification onto the template sheet enclosed with your kit. Take a photograph of your test and ID and upload it to your patient area. We will verify your identity against the details you used when placing your order and will issue your official travel certificate immediately upon receipt and checking your identity. You will be able to download your certificate directly from your patient area.
Important: You should only take your Rapid Covid-19 Lateral Flow test a few hours before you are due to fly. If you take your test too early, the result may not be valid by the time you come to board your flight.
How will I receive my results?
The results from your Rapid Covid-19 Lateral Flow tests will be ready in 15 minutes from when you run your test. You will see one or two lines on your test cassette. One line indicates that your test ran correctly, and your test is Negative. Two lines mean your test ran correctly but you have tested positive for Covid-19. As soon as you have your test result, please follow the instructions and photograph your test cassette along with your passport or travel identification and email the photograph to Better2Know. We will issue your official certificate immediately upon verifying your identity and you will be able to download it from your secure patient area.
The result from your Lateral Flow test will be available to view online in your secure patient area on our website after you have uploaded your photo template with your results and your photo ID. You can access your patient area using the log-in details provided to you at the time of booking. Your patient area will tell you what to do next, depending on your result. You will also be able to download a certificate showing proof of your results.
What if I test positive for Covid-19?
If your Rapid Covid-19 Lateral Flow Antigen test is positive, your certificate will show this positive result and it is unlikely you will be allowed to travel. You should seek a PCR test to confirm your diagnosis and remain in isolation for 10 full days.
How much does a Rapid Covid-19 Lateral Flow test cost?
Single test kit: £14.95
Non-refundable single test kit £9.95
What if my trip gets canceled or I change my mind?
If you have bought the standard test you cancel your order before it is dispatched we will refund your purchase to you.
We accept cancellations before your kit is dispatched. If you change your mind after dispatch, please return the kit unopened to us within 14 days for a refund less a £10 admin fee.
If you have bought the non-refundable test, there is no refund at any time.
How it works
How It Works
Buying your home test kits online is simple:
1

Buy your test online.

2

Receive it in the post.

3

Provide a sample.

4

Free return postage to the lab.

5

Check your results securely online.
We provide a completely confidential and anonymous service. Please refer to our FAQs above, for more information. If you have any additional questions, please do not hesitate to contact us, using the phone number at the top of the page.
FAQs
Frequently Asked Questions
Q: When will you send my kit to me?
If your order is placed before 4pm on a working day, then it will be sent the same day. Otherwise it will be sent on the next working day.
Q: Why do you need my email address?
Your Patient Services Manager, Louise Wright, will email you your login details to access your results, a confirmation your kit has been dispatched and finally when all your results are ready. We do not sell on or email you any other marketing materials, that is why we do not ask you to opt in or out of anything.
Q: Do I need to use my real name?
No, but the postman does need to know where to deliver the kit to. As long as you use a name that will get the kit to you, then we do not need your real name.
Q: What does the kit packaging look like?
It will arrive in plain white envelope with your typed name and address on it.
Q: What if I have any more questions?
You can email Louise by replying to one of the emails she has sent to you. She will do her best to answer them.