Syphilis is often referred to as a silent infection, with many people experiencing little or no symptoms in the initial stages. This can be particularly damaging as those with undetected Syphilis infections are more likely to transmit the STI to others without knowing.
In a recent interview with the BBC, one former Syphilis patient called for a broader public debate on an STI that is 'not discussed at all.'
"There were no symptoms," said the individual, using the name Gavin. "You don't know you've got it and it just kind of lies dormant. Then you spread it round and you have no idea." Gavin's Syphilis infection had reached the secondary stage by the time it was detected, and he also discovered that he had HIV at the same time. He is now urging those who have had unprotected sex to get tested as soon as possible.
Gavin is now free from Syphilis following effective antibiotic treatment and his campaign comes in light of record Syphilis statistics. Last year, Public Health England (PHE) revealed that there had been almost 6,000 cases of Syphilis. That is a 12% rise on the year before and 'the largest number of Syphilis diagnoses reported since 1949'. The PHE report stated that these results are 'consistent with the increasing trend seen in recent years', and that 'since 2012, Syphilis diagnoses have risen by 97%'.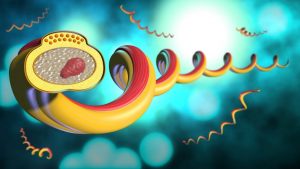 Dr Patrick French, a sexual health and HIV consultant at the Central and North West London NHS Foundation Trust, spoke to the Nursing Times about PHE's findings. He said that the increase in Syphilis cases was 'deeply disappointing' and emphasised the importance of 'sexual health promotion and easy access to high quality testing and treatment services'. This makes getting tested for Syphilis even more pressing, especially when it comes to the safety of your health and that of any current or future partners. Early detection is key to preventing long-term damage to your system.
Syphilis can be transmitted through sexual contact, including anal, vaginal and oral intercourse. The infection goes through three stages:
Primary stage: Identified by a visible sore or ulcer known as a Syphilis Chancre.
Secondary stage: This can be symptomatic, and you may experience fever, headaches or muscle aches, swollen glands, hair loss and a sore throat.
Latent stage: Symptoms may clear despite the bacteria remaining in your system. This stage can result in significant damage to your heart, brain, liver, bones and joints, blood vessels and eyes.
Further symptoms of a Syphilis infection can include a non-itching rash on the palms of the hands or bottoms of the feet, white patches in or around the mouth and skin growths comparable to Genital Warts.
Better2Know offers a variety of testing options for Syphilis. We are the UK's largest provider of private STI testing services. Our team of highly trained sexual health advisors will ensure your confidential patient journey is as simple and stress-free as possible. Samples are collected by qualified nurses or clinicians at your private appointment before being sent to Better2Know's CPA accredited laboratory to be analysed. Each test and screen has a specific period of incubation; this is the time between possible infection and getting tested. Here are some of our suggested Syphilis testing options:
Platinum Screen: This comprises tests for eleven STIs, including Syphilis, to give you a detailed view of your sexual health. This is Better2Know's most thorough screen and will detect: HIV, Syphilis, Hepatitis B, Hepatitis C, Herpes I/II, Chlamydia, Gonorrhoea, Mycoplasma, Gardnerella, Trichomonas and Ureaplasma. An incubation period of 28 days is required for this screen. However, you can also choose our Early Platinum Screen, which will identify the same infections at half the incubation period.
Peace of Mind Screen: This testing option requires a 14-day period of incubation, which means you can get tested just two weeks after an incident of concern. This screen will detect Chlamydia, Gonorrhoea and Syphilis. If you would like to combine this screen with tests for blood borne STIs such as HIV or Hepatitis B, your Better2Know advisor can bolt on these tests for a reduced price.
Instant Six: At selected private STI clinics across the UK, Better2Know provides Instant STI testing. This enables you to receive your results within 30 minutes of your samples being taken. Better2Know's Instant Six Screen will identify five common STIs as well as Syphilis. These include HIV, Hepatitis B, Hepatitis C, Chlamydia and Gonorrhoea. This test requires a 28-day incubation period. After you receive your results, which are presented in the form of a Better2Know Rapid Tests Results Report, Better2Know's clinic or Patient Services staff will help you access the treatment you need following the receipt of your results. There are a number of other Instant screens that include testing for Syphilis. If you are unsure which one to select, your sexual health advisor will help you choose the testing option most suited to your needs.
To book your confidential Syphilis test with Better2Know today, contact our Patient Services team on the number above. They will answer any additional questions you may have and are available 24/7 for your convenience. To book online, simply select the orange button at the top of the page and follow the instructions.
---