Some countries request an HIV certificate during the visa application process. The circumstances where you will be asked to provide proof of your HIV status may vary depending on the country you are travelling to, and the purpose or length of your stay. Better2Know advises travellers to check the visa specifications of the country they are planning to visit, work in, or migrate to.
Better2Know are the world's leading provider of private STI testing services. If you need an HIV certificate for any reason, we can provide you with one for small fee following your confidential HIV test or screen.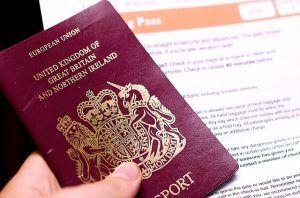 Better2Know's HIV Testing Options
Better2Know's range of confidential screens and tests are designed by our panel of medical experts to suit your personal requirements. If you are unsure which HIV test to select, Better2Know's experienced sexual health advisors are available to help you choose the screen or test most befitting your circumstances.
Better2Know's Instant HIV test
Our Instant testing services are available at selected private STI clinics across the UK. You will receive your results on the same day as your Instant test in the form of the Better2Know Rapid Test Results Report, which will be provided within 30 minutes of sample collection. For your Instant HIV test, a blood sample will usually be collected via finger prick lancet. Analysis will be performed by a qualified clinician whilst you wait in the clinic.
Better2Know's 10-day HIV RNA PCR test is available after just 10 days of incubation, which is the time between potential infection and your HIV test. So you can get tested for HIV less than two weeks after an incident of concern. A blood sample is used for fast, accurate analysis. Your confidential results will be ready to report within one working day after your sample has arrived at one of our fully certified laboratories in the UK.
This HIV testing option is available individually and as part of Better2Know's Early Detection Screen. This popular screen uses a blood sample to combine testing for HIV, Hepatitis B and Hepatitis C.
The HIV DUO test is suitable at a 28-day period of incubation. This testing option identifies the presence of the p24 antigen (specific to the HIV virus) and antibodies for HIV I/II (your body's reaction to the HIV pathogen). A single blood sample is used for analysis and test results will be available just one working day after one of our CPA accredited laboratories has received your sample. The Better2Know HIV DUO test is 99.8% accurate after four weeks of incubation. This increases to 99.9% at 90 days after potential exposure to the virus.
Better2Know's 5th Generation HIV test can identify three markers of an HIV infection with a single blood sample. If you test positive, the 5th Generation HIV test will identify whether your reactive result was triggered by HIV I antibodies, HIV II antibodies or the p24 antigen. This is significant as different strains of HIV require different types of treatment. A 28-day incubation period is suggested for this test. If you test before this time, your results may not be as accurate. Your results will be reported within one working day once our laboratory has received your blood sample.
As well as receiving individual HIV testing, you can combine any of our STI tests to create a thorough screen that will put your mind at ease with regards to your sexual health. If requested, your HIV certificate will be provided following your STI screen or test. Corporate billing can also be arranged.
Get Your HIV Certificate Today
To book your confidential HIV test and receive your HIV certificate, please get in touch with Better2Know by phoning the number at the top of the page. Our highly trained sexual health advisors are available 24/7 to answer your queries and process your payment. You can also arrange your private appointment at one of our STI clinics online. Select the orange Book Now button above to begin your confidential patient journey.
Image source:
Josh O'Nolan. Available Here.