Better2Know is the UK's largest provider of private STI and HIV testing services. We have private sexual health clinics in England, Wales and Northern Ireland, as well as many locations in Scotland. Our CPA accredited laboratories ensure fast, accurate results. Better2Know's Patient Services team are highly trained to help make your patient journey as stress-free and discreet as possible. Testing with Better2Know is strictly confidential, and you have the choice of anonymity should that make you more comfortable.
Health Protection Scotland recently revealed that Scotland 'continues to face challenges in preventing new HIV infections.' This is evident in their estimation that over 6,000 people are living with HIV in Scotland, and 13% of the Scottish population remain undiagnosed.
In addition, George Valiotis, chief executive of HIV Scotland, told the BBC that many people in Scotland avoid getting tested and receiving treatment for HIV, due to the prevailing stigma. According to Mr Valiotis, the retrovirus is still seen as a terminal illness and many are scared to be associated with the infection.
HIV is no longer the life-threatening condition it once was, there are specialised treatments available that enable those infected to live a long and healthy life. However, the key to this is early detection and treatment, with testing being the only way to be certain of your HIV status.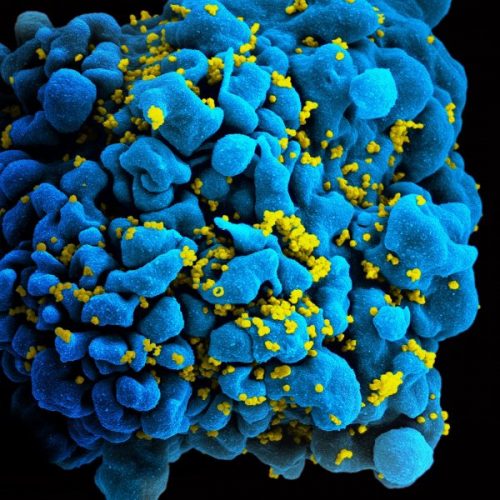 HIV-infected T-Cell
Better2Know offers various testing options for HIV in Scotland:
Our 4th generation, 28 Day HIV DUO test is suitable for those whose potential exposed occurred at least 4 weeks ago. This is Better2Know's most popular testing option for HIV. The nature of a DUO test means the test looks for both the p24 antigen and our body's reaction to the retrovirus, the antibodies for HIV I and HIV II.
The 5th generation HIV test is also available 28 days after possible infection, and can provide detailed results that not only identify an infection, but the virus type that has triggered a reactive result.
Better2Know's 10 Day HIV RNA PCR Test means your confidential HIV test is available less than 2 weeks after an incident of concern. This testing option is available as part of our Early Detection Screen, which also looks for Hepatitis B and Hepatitis C infections.
If you want your results on the same day as your test, then Better2Know can provide Instant testing at selected clinics throughout Scotland, including Edinburgh, Aberdeen and Glasgow. This preferred testing method means you can receive your results less than 30 minutes after providing your samples. Upon receiving your results, you will be a given a signed and completed copy of the Better2Know Rapid Test Results Report. Our Instant test requires a 26-day period of incubation, though our sexual health clinic in Edinburgh requires 90 days of incubation.
If you need an HIV test certificate, Better2Know's private clinics can provide you with one following your confidential testing appointment. Simply notify one of our sexual health advisors when arranging your booking. Upon receiving your results, our expert advisors can also arrange a private doctor's consultation, or refer you to a specialist service, should you require it. We can also arrange corporate billing, if this is a service you need please get in touch by email at corporate@better2know.co.uk
To book your confidential HIV test in Scotland today, please contact our experienced Patient Services team on the number displayed at the top of the page. Our friendly advisors will be happy to provide further guidance, before processing your booking. Otherwise, you can use our online booking system by selecting the Book Now button above and following the instructions.
Image source:
National Institute of Health (NIH). Available Here.